Claire Murdoch says more than 10,000 staff are needed to implement the forward view for the sector
Her comments follow Theresa May's pledge last month that 10,000 more staff will be employed by 2020
Ms Murdoch said the actual number will need to be "greater" but would not say by how many
The mental health sector will need to recruit more than 10,000 extra staff to deliver on commitments made in the Five Year Forward View NHS England's mental health director Claire Murdoch has told HSJ.
She also warned that "Brexit will make it harder" to reach the required staffing levels.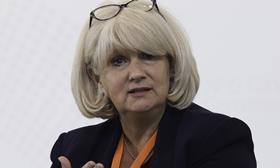 Theresa May pledged an extra 10,000 staff would be employed in the sector by 2020 as part of a package of mental health policy reforms announced last month.
In her most wide ranging interview with HSJ since taking up the post last year, Ms Murdoch said the actual number needed to fully implement the Five Year Forward View for Mental Health would be "greater than" 10,000.
Ms Murdoch would not name an exact figure. However, HSJ understands around 20,000 new staff maybe be required to turn the plan into a reality.
Ms Murdoch said: "Given we currently have significant vacancies in mental health already and now we are talking about a growth agenda – and it's a very significant growth agenda – obviously, the big risk is we have to fill all these [existing] posts [if we are to implement the forward view]."
The NHS England director said the number of new staff was "greater than the 10,000 number [announced by Ms May], not less than. It is an absolute increase [over and above the existing posts within the sector]."
She added: "We have received nothing but support and encouragement from the PM and others in government on prioritising mental health and the ongoing work to fully scope the workforce needs of the sector."
Ms Murdoch admitted the UK's departure from the EU would make growing the mental health workforce harder.
She said: "What is acknowledged is the new numbers will be challenging and what we need to quickly do is move to regional and STP level analysis of what it might mean in their areas and what we can do to further support the sector.
"We think Brexit will make it harder. The sooner the negotiations can get some positive messages out about NHS staff and another key staff the better."
Ms Murdoch said as well as extra staff the sector would also need to increase productivity and reduce attrition rates.
She said improving productivity need not involve staff working harder, but should mean reshaping models of care and making more better use of digital technologies. She also said the sector must look to improve employment packages in the hope of retaining more staff.
She added: "We have made some assumptions in terms of productivity and changes across the pathways. But they are modest and realistic."
Under NHS England's implementation plan, Health Education England were tasked to produce a mental health workforce strategy up to 2020-21 by December last year. However, the report has still not been published.
Ms Murdoch said NHS England and its partners were due to meet with Jeremy Hunt to get it signed off before the end of the summer.
She also said the new plan will be credible and has cross sector support having been "road tested" with NHS executives, royal colleges, the Mental Health Taskforce and the third sector.
She added: "The plan is coming out later than I would have wanted. [But] We are at the stage now when we pretty much do have a plan that everyone has signed up to… it does fit the absolute underpinning to deliver the forward view.