National mental health director says NHS England will intervene if areas fail to invest new funding properly
Claire Murdoch says transparency is key to implementing £3.97bn plan for the sector and making sure cash reaches services
NHS England to publish a new dashboard in September, including how much CCGs spend on mental health and provider performance data
NHS England will take action in areas where funding pledged for mental health services is not reaching the front line, its national mental health director has told HSJ.
Claire Murdoch said if commissioners and providers are not investing in services as set out in NHS England's implementation plan or hitting key performance targets, the national body will step in.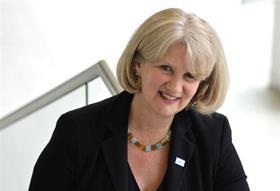 The plan, published last month, outlined how £3.97bn of additional cash for mental health services by 2020-21 would be spent.
Earlier this month, former Mental Health Network chief executive Stephen Dalton said the "acid test" for the plan will be ensuring the cash reaches the front line and the plan needed a "transparent, independent and publicly visible" governance process to show money went where it was pledged.
Ms Murdoch said that while punitive language was "not helpful", NHS England will step in to support areas struggling to implement the plans.
She added: "We know across the country there are huge demands on the NHS and I have no doubt commissioners and providers are working really hard to do their best for their local populations.
"I have been brought in to ensure that we deliver the plan we have published, so absolutely there will be a response to those areas that are failing to invest in mental health as they should. If they are failing to do that or to deliver on key and significant targets we will have to look at what support offer we can make.
"I am well aware, and NHS England is well aware, that this will challenge the system at a time when the system is already challenged, but ministers have made this commitment, NHS England has given this commitment and we will work with the system to deliver these targets nationally."
The implementation plan set out a blueprint on how regulators, commissioners and providers will meet the recommendations made by the Mental Health Taskforce.
Key pledges include investing £108m to integrate physical and mental health services; a £1.8m pilot scheme giving six regions new commissioning powers for tertiary mental health services; £365m plans to help 30,000 more women a year with perinatal mental health problems; and £12m to expand mental health assessments for people arrested.
Ms Murdoch said NHS England will publish new data next month on finances and performance to allow people to track where the money is being spent.
Although the dashboard has not been finalised, it is expected to include the how much clinical commissioning groups spend on mental health and performance metrics for providers.
Ms Murdoch said while the data might need "finessing", an important part of delivering the plan was to make sure the process was transparent.
The chief executive of Central and North West London Foundation Trust added: "One of the key ways – but it won't be the only way – that we will drive delivery of these targets and great services will be transparency, pushing as much transparency into the system as possible.
"We are committed to publishing the finance and performance trackers. Then it's a question of working with colleagues in the system, both at a local level, to make sure the money is getting to the right places up to a [sustainability and transformation plan] and regional level."