Councillors at a local authority in north London have overturned proposals to potentially remove its entire health visiting budget by 2018, following a meeting last week.
However, Harrow London Borough Council's plans to cut other public health services over the next three years, including drug and alcohol and sexual health, remain, HSJ sister title Nursing Times reports.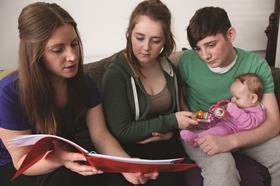 In its draft budget, the local council originally intended to drastically reduce its public health spending overall from around £10.7m in 2015-16 to £5.9m by 2018-19.
The biggest reductions were proposed for 2018-19, when local authorities could see the ring fence around their annual public health grant – which they receive from the government – removed.
This included plans to review its entire £3.2m budget for health visiting services from 2018-19.
Despite overturning this plan earlier this week, councillors agreed proposals for a £384,000 cut to public health in 2016-17 should remain in the draft budget.
This will affect its health checks programme for people over the age of 40, physical activity support services, and school education scheme about health and wellbeing. A final decision will be made in February following consultation.
Overall, the draft budget for the next three years now includes a cut to its annual public health spending of more than 25 pre cent by 2018-19.
Dave Munday, professional officer at Unite's community practitioners and health visitors association, said the decision to reverse the planned cuts for health visiting was a "positive move".
"This is a positive move, but that proposal should never have been on the table. They should never have been looking at cutting health visiting services because ultimately the money that is saved by them being in place far outweighs the money it costs to provide them," he said.
However, he warned the remaining planned reductions – such as those to sexual health – could still affect health visitors because those services often support the profession.
A council spokesman said: "We are undertaking a review of the health visiting service in Harrow, and we are awaiting further details from government about the funding settlement for the council."