Exploring the initiatives and training University Hospitals Coventry and Warwickshire Trust have used to raise the standard of care for patitents with Alzheimer's and dementia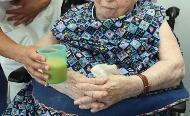 With Alzheimer's affecting 500,000 people in the UK, and a further 300,000 affected by other forms of dementia, the impact of the condition is felt far beyond the walls of the geriatric wards.
It is often a secondary condition that can affect people with any kind of injury or illness.
Because of this it is vital that all staff, from porters and nurses to senior clinicians, are taught how to communicate and interact with someone suffering from dementia appropriately.
University Hospitals Coventry and Warwickshire Trust has a long history of practices designed to raise the standards of care for those with dementia and confusion, to ensure all patients are treated with dignity and respect. The trust has continued to seek new ways to improve the care provided for people with dementia across the trust at every level.
Facing the challenge
One of the most important trust-wide initiatives introduced so far is the "forget-me-not challenge", which recognises that specialist care for patients with dementia is required across a variety of wards.
The challenge involves placing a discreet picture of a forget-me-not flower over the bed of anyone the staff feels may need some extra vigilance checks, reassurance or assistance.
This has helped staff across the trust to feel more confident in their care of those with dementia as they are able to quickly identify those with the condition and respond accordingly.
The trust has also made environmental changes such as developing rooms such as the forget-me-not lounge to help calm and reassure patients with dementia and confusion.
'By finding out more about the person, the nurses can tailor their care for each patient'
Coventry and Warwickshire has also designed a "memory lane", a collage of 210 tiles depicting local scenes, family events, the war, the cathedral and sport. These help not only those with dementia, but other patients who stay in hospital for long periods of time, by helping them to feel a bit more at home.
Personalised care
In addition, the trust has put flexible visiting times in place for older patients with confusion or dementia and it has set up a buddy system where volunteers − the "forget-me-not champions" − come in to spend time with the patients.
Alongside these volunteers, the trust has also developed activity coordinator roles for over 10 years. As part of their role, the coordinators carry out daily activities with patients who have dementia or confusion: from just talking to them about their memories to playing games.
These activities prevent the patients from feeling bored and lonely during their long hospital admissions. The activity coordinators ensure patients are kept engaged and do not feel ignored.
Since 2004, the trust has promoted the use of a "getting to know me" form, adapted from research carried out by the University of Stirling. When a patient is first admitted, the nurses use the form to find out their personal interests, hobbies, likes and dislikes. This leads to a better understanding of the individual and their behaviour.
By finding out more about the person, the nurses can tailor their care for each patient and include more personal touches.
Bespoke training
It is important that all staff are correctly trained on how to care for people with dementia. Rose O'Malley and Liz Kiernan, clinical nurse specialists for dementia care, provide bespoke training for across the trust.
'All these initiatives are part of a person-centred approach the trust is championing'
The nurses are encouraged to view difficult behaviour from patients as an expression of asking for help, and to use their knowledge from training sessions to communicate appropriately with these patients to handle situations effectively.
The trust provides different levels of dementia awareness training, from basic sessions that all staff are invited to attend to ones directly aimed at clinical staff.
There is also a more advanced level of learning about dementia for the staff who have already undertaken the basic training and who have a real interest in improving care for patients with dementia.
Ambassadors for care
These staff members will become ambassadors for dementia care in their clinical areas and will be expected to put in to practice what they have learnt as part of this training.
The trust reviews patient outcomes though a variety of measures, including the impact the initiatives have had on the mood and behaviour of the patient. It is often the case that dementia or confusion patients lash out at staff or become angry and frustrated due to the nature of their condition.
The dementia care initiatives have been designed to help alleviate any stress and allow the patient to become more comfortable with staff.
All these initiatives are part of a person-centred approach the trust is championing as the best way forward for dementia care.
Find out more
Read more about University Hospitals Coventry and Warwickshire Trust's "forget-me-not challenge" at www.uhcw.nhs.uk