NHS England named Cygnet Health Care as a partner in a new care model for young people's mental health 10 days after inspectors found serious failings at its hospital in Woking that led to the temporary closure of its adolescents' psychiatric intensive care unit.
The Care Quality Commission rated the psychiatric intensive care services at the hospital inadequate. The inspection in June found young people had repeatedly self-harmed while under constant observation; there was a high level of incidents and use of restraint, including prone restraint; and staff did not have the skills and experience to manage the young people in their care. In eight reported cases, male staff had not intervened when a patient was self-harming until a female nurse arrived.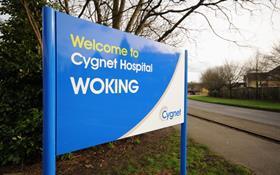 One of the main objectives of the partnership in Kent, Surrey and Sussex, due to start this month, is to reduce out of area placements. Young people from the area had to be placed elsewhere when the Woking unit was temporarily closed in July. It is now undergoing a phased reopening.
An announcement by NHS England, on 23 June – after the inspection had finished – said the lead provider for the Kent, Surrey and Sussex pilot would be Surrey and Borders Partnership Foundation Trust. Other partners are Sussex Partnership FT, Cygnet and other private healthcare providers. The pilot covers inpatient services for children and young people (tier four) and will share a local budget.
When the announcement was made, two of the three children's and adolescents' mental health wards at the Woking hospital were closed due to staffing issues, and the other ward was closed to new admissions and closed temporarily within weeks.
An NHS England South spokesman said: "The new care model partnership brings together providers who deliver tier two and three CAMHS and tertiary mental health services across Surrey, Sussex and Kent, and others who operate in adjoining areas such as south London and Berkshire. All tier four bed providers in the region are part of the partnership – including providers that deliver generic, secure and eating disorders services and PICUs and support for children with learning disability or autistic spectrum disorder. Cygnet is therefore included as part of the project, which encompasses all relevant local providers. The new model of care pilot in this area will go live shortly."
The CQC report said parents had been concerned the hospital had not addressed issues they had raised, and they had gone on to raise complaints directly with NHS England.
NHS England said it had taken immediate action when concerns emerged about the unit. "This included suspending new admissions to the unit and transferring the care of patients already on the unit, while action was taken to address these concerns," a statement said.
Cygnet named in new care model despite serious failings at hospital
1

Currently reading

Cygnet named in new care model despite serious failings at hospital

2