Sir David Dalton focused on leading the newly created Northern Care Alliance Group
Formal acquisition of Pennine Acute by Salford Royal is planned within two years
"Care organisations" created for each hospital site
Sir David Dalton has said he is committed to leading the newly structured "group" of five hospitals in Greater Manchester and does not want to be the next chief executive of NHS Improvement.
In an interview with HSJ, in which he set out the creation of the Northern Care Alliance Group, Sir David said he would not be replacing Jim Mackey at NHSI when he stands down later this year.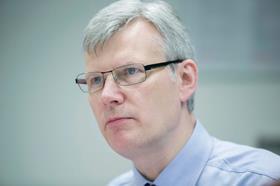 Earlier this week the chief executives sent a joint message to hospital chiefs underlining the importance of meeting the four hour accident and emergency standard, which prompted speculation that Sir David could be in line to replace Mr Mackey.
Asked whether he wanted the job, Sir David said: "The clear answer is no."
He said he is focused on developing the new organisational structure established to manage the hospitals run by Salford Royal Foundation Trust and Pennine Acute Hospitals Trust, of which he is "group chief executive".
Although the trusts must still fulfil their statutory functions, and be regulated separately, their decision making has been devolved to a committee in common, which effectively now operates the group and manages its services.
Within two years, it is planned that Salford Royal will complete a formal acquisition of Pennine Acute, after which the statutory and regulatory requirements would become more straightforward.
Beneath the group, the hospitals have been structured into four "care organisations" centred around the hospitals in Salford, Oldham, Bury/Rochdale and north Manchester, with operational responsibility delegated to new leadership teams for each organisation.
Meanwhile, new arrangements are being developed for clinical support, estates, facilities and corporate departments to operate across the group.
Sir David said: "This is a different way of organising [NHS] organisations with a group, it's not just about scale. Where you hear in some places that they've become a group just because they've merged organisations together, our arrangements are set on some very clear criteria which distinguish the group headquarters from the operating units.
"I think that's a distinctive feature. Royal Free, [Guy's and St Thomas'] and Essex working on similar arrangements. [The care organisations] strengthen senior leadership support at hospital level, enabling better engagement with staff and clinical teams.
"Compared with the previous, more remote trust HQ, they are closer to the shop floor, understanding the challenges and issues staff are facing."
Sir David and Salford Royal chair Jim Potter took over the leadership of Pennine Acute last year after it was rated inadequate by the Care Quality Commission.
Sir David said the new governance arrangements between the trusts had enabled "rapid handover of responsibilities at virtually no cost to the taxpayer", and suggested that effective implementation before a formal acquisition process had saved on legal and management fees.
Asked about the extent to which improvements have been made at the Pennine Acute sites, Sir David said he was "very happy" with the progress to address the CQC concerns and implement some of the systems used at Salford Royal. Qualitative measures such as the staff survey had also suggested positive change, he added. The CQC has been carrying out an unannounced inspection of the sites this week.
An additional £17m of revenue funding was allocated to the trust to boost staffing levels in 2017-18, and while Sir David said this "wasn't as much as we originally hoped", he is hopeful it will be made recurrent.
The Pennine Acute hospitals are still struggling on the A&E standard, however, with just 85 per cent of patients seen within four hours in the three months to September, along with 31 waits of more than 12 hours.
Briefing papers announcing the group structure said a "shared hospital service" is being designed across the Bury, Oldham and Rochdale sites, which would be "associated" with Salford Royal.
It excludes North Manchester General Hospital because this site is due to transfer to the newly created Manchester University FT within two years.
It also takes into account the planned reconfiguration of emergency general surgery under the Healthier Together programme, in which Salford Royal has been grouped with the acute hospitals in Bolton and Wigan. The hospitals in Bury, Oldham, and Rochdale were similarly grouped together.
Bolton FT and Wrightington, Wigan and Leigh FT had initially shown interest in being involved in the group structure, prior to Pennine Acute's involvement, but did not wish to proceed under the arrangements that have emerged.
Some targets are 'givens'
Sir David Dalton also clarified his position on national targets after he appeared to row back from his call in February to "scrap current [national] targets and replace them with locally selected key performance indicators" in an article on hsj.co.uk this week.
In an article, co-written with Jim Mackey, he set out his support for the four hour waiting target, and argued it was a core component of the patient safety agenda.
This appeared contradict an article he wrote earlier this year where he said: "Access targets are now much less important than meeting the agreed seven day NHS clinical standards. Current targets should be replaced with locally selected key performance indicators (from a national thematic list) and publicly reported balanced scorecards should be used – where the need for improvement is seen 'in the round'."
He said this week the "general point" he was making in February was the NHS had too many national targets compared to other health systems. However, he said he was prepared to accept a small number of core national priorities as "givens" and NHS leaders' decision "in the last few months" to focus on three targets had helped with this issue.
"The four hour [A&E target], 62 days for cancer [referral to treatment] and meeting control totals have been selected as the three core priorities. I am happy to accept those three as givens, and then add to that for the Northern Care Alliance the importance of patient safety and assuring high quality services," he said.
He said he proposed writing the piece with Mr Mackey because the four hour target was an "issue of patient safety" and he and the NHS Improvement chief had a "common course". He said neither Jeremy Hunt nor anyone at the Department of Health had "knowledge of the content" before it was published or were involved in writing it. James Illman