NHS England approves four mergers involving 11 CCGs
Changes affect Leeds, Birmingham and Solihull, South West and Buckinghamshire
New Birmingham and Solihull organisation will be country's biggest CCG
NHS England has approved unprecedented changes to clinical commissioning groups across the country, consolidating 11 CCGs into four, HSJ can reveal.
The national body confirmed its commissioning committee had approved in principle four mergers, involving 11 groups, to come into force in April 2018.
The move marks the biggest commissioning sector reconfiguration since CCGs were formed in 2013. CCG mergers have been approved on two occasions previously.
The mergers to take place in 2018 are:
The mergers remain dependent on the CCGs meeting several conditions, such as chair and senior management appointments, and a single commissioning and finance strategy.
An NHS spokeswoman said: "Each proposed merger builds on current joint working between local health areas. NHS England's commissioning committee has approved these mergers subject to specified conditions and, if met, the new arrangements will come into place at the start of the new financial year."
The merging CCGs have already been sharing senior leadership and acting together through joint commissioning boards.
Most of the 11 are relatively high performing commissioners, with NHS England ranking seven of them as good in the most recent ratings.
The exceptions are Bristol, which is rated requires improvement, and North Somerset, South Gloucestershire and Solihull, which are inadequate.
Three of the four merged organisations will have budgets of more £1bn.
The biggest will be the new Birmingham and Solihull commissioner, which, taking into account a shared west Birmingham budget with West Birmingham and Sandwell CCG, will have a budget of about £2bn and cover 1.3 million people.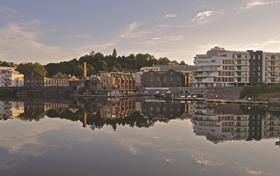 Interim chief executive of the three CCGs, Paul Jennings, said: "The approval in principle from NHS England provides greater clarity for our patients, staff and partners, and even more momentum to ensure a smooth and successful transition to our new CCG, which will be the largest in England."
The shift will herald a major reconfiguration of service commissioning across Birmingham, with new multi-provider or prime provider contracts for service across the city, based on distinct services or diseases, such as diabetes. A similar, but separate, process will take place for Solihull.
The exact make-up and priorities for these new contracts will be determined by a "refresh" of the Birmingham and Solihull sustainability and transformation plan, which is expected next month.
Mr Jennings said the plan was to establish a shadow board of governors to be in position to replace the joint commissioning board by April.
This would begin with the election of chair, expected by January. Board members would include lay members, a secondary care clinician and a GP representatives from each of six "placed based" areas covering Birmingham and Solihull.
Birmingham CrossCity and South and Central CCGs both reported a surplus in 2016-17, and are on track to do again the year.
However, Solihull has a history of deficits and was £6m off-plan in September, reporting a deficit of £3.2m. NHS England placed the CCG in special measures in August.
Mr Jennings said while the merged CCG would run a combined budget, there would remain a "indicative locality budget".
"We haven't made any plans to transfer resources from Birmingham to Solihull… we are absolutely clear that this not about bailing someone out," he added.
The CCGs together employ 300 whole-time equivalent staff, though with many people working part-time the head count is higher.
While having a bigger budget, HSJ understands the merged CCG will likely be slimmer, devolving some of its responsibility to lead providers or accountable care partnerships.
Mr Jennings said the CCGs had deliberately not filled positions in the lead-up to the merger to limit the need for redundancies.
He said: "I'm hoping to keep redundancies to be minimum but we are not in a position to give absolute guarantees."
NHS England's director of commissioning operations in the West Midlands, Alison Tonge, said: "The confirmation of a single CCG for Birmingham and Solihull is good news for the local population and a major step towards better integrated working with local authorities and health providers in city."
All 11 CCGs involved in the mergers were approached for comment.
Seven more CCGs approved to merge in nationwide shake-up
1

2

Currently reading

Exclusive: Mergers involving 11 CCGs get green light