Sir Norman Lamb predicts "very good chance" government will lose if challenge over flagship learning disabilities programme goes to court
South London and Maudsley FT chair also warns mental health services have same challenges in regards to breaches in human rights
A former health minister who is now chair of a leading mental health trust has suggested the government would lose a legal challenge over its national programme for patients with learning disabilities.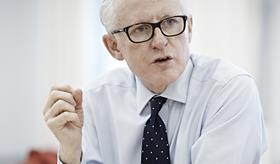 Sir Norman Lamb, chair of South London and Maudsley Foundation Trust and a former Liberal Democrat MP, said the national Transforming Care programme was at the "very least a partial failure".
He added: "I say partial failure as there are people who are living a better life outside in the community, but there are [also] far too many people in institutions who don't need to be.
"I regard this as a human rights issue. We're locking people up when we don't need to lock them up. We're subjecting them to force, when we shouldn't do so, and this is how I think we need to frame it. If the government were challenged in court on this, I think there's a very good chance, as an ex-lawyer, that they would lose."
His words followed the Equality and Human Rights Commission last month threatening the Department of Health and Social Care with a judicial review over its failure to implement the programme.
Transforming Care was launched in 2011 following the Winterborne View scandal and aimed to discharge patients with learning disabilities and autism out of institutional inpatient units into the community. However, the most recent figures, from NHS Digital, show there were still more than 2,000 patients within inpatient units, ahead of the national programme's expiration this month.
Sir Norman, who joined SLaM this month and was speaking at an NHS Confederation event last week, added: "I think to be blunt the same challenges exist in mental health services as in learning disabilities [services]. These are people who don't have sufficient rights in the system, whose rights are trampled over.
"The [Care Quality Commission] two years ago identified 3,500 people who were in locked rehab wards who the CQC, not campaigning MPs, said… shouldn't be in there. So, the same breaches of human rights apply in mental health as learning disabilities."
Sir Norman served as care minister in the coalition government between 2012 and 2015.
Also speaking during the session at the NHS Confederation event, Kevin Cleary, deputy chief inspector for hospitals and lead for learning disability and mental health services for the CQC, said: "We have allowed our patients to be placed within places like Whorlton Hall.
"I think the NHS provides very few services of this type, it has withdrawn from providing these services, and has become comfortable with providing that service, within the independent sector, several hundred miles away and that's not right… absolutely not right.
"We cannot say we are providing patient centred care or say we are placing the patient at the heart of everything we do and have that response from the system. We are all responsible for that."
Source
Speech at NHS Confederation conference