Professor Lord Ara Darzi says proposals to strip Royal Brompton of heart surgery services "utterly astonishing"
Surgeon and former health minister says NHS England methodology "plucked from the sky"
Chelsea based trust considering move to St Thomas' Hospital
Professor Lord Ara Darzi has weighed into the argument over the future of specialist services in England.
The peer and surgeon, who was a health minister in Gordon Brown's Labour government, said in the House of Lords this afternoon he opposed NHS England's plans that would lead to the loss of services at the Royal Brompton Hospital in west London.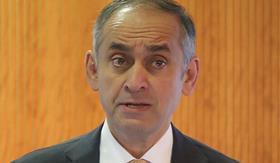 HSJ revealed earlier this week that the trust was considering a move to St Thomas' Hospital a few miles away so it could keep its adult and paediatric congenital heart disease teams under the same roof.
Lord Darzi, who is a non-executive director with NHS Improvement and chair of surgery at Imperial College London, said the thresholds set by NHS England "have simply been plucked from the sky, with a completely random figure of 125 cases per surgeon. There is no clinical evidence that I have seen to support this number anywhere."
NHS England recently finished a consultation on the provision of congenital heart disease services nationally, after an earlier reconfiguration process, looking just at paediatric CHD, ran into the ground. Both processes follow on from the Kennedy inquiry into avoidable deaths in heart surgery.
The Royal Brompton and Harefield Foundation Trust challenged the earlier reconfiguration attempt in the High Court, citing problems in the process and bias among the commissioning panel.
Lord Darzi said the trust's services "achieve the highest quality outcomes in every dimension we could choose to measure. The proposals we are debating today are to dismantle the highest quality service in England. I must be honest and say: I find it utterly astonishing that it should even be a question for discussion."
He said NHS Improvement had estimated the cost of the move as being £800m, calling this "an enormous sum at a time of real financial difficulty". The trust has explored plans for relocation and redevelopment before, factoring in the significant value of its estate in Chelsea.
NHS England has argued that paediatric congenital heart surgery must be co-located with other specialist services.
Lord Darzi cited his own experience of leading reconfiguration and said it was "painfully obvious that the standard on co-location has been defined in such a way as to deliberately result in the dismantling of the service at the Brompton".
"It is another acute case of policy based evidence-making rather than evidence based policymaking. Frankly, as someone involved in NHS policy for many years, I find it really rather embarrassing," he added.
University Hospitals of Leicester Trust has also been earmarked to lose services and Central Manchester University Hospitals FT has agreed to stop providing the most complex services.
Lord Darzi praised the "magnificent contribution" of specialist hospitals. He said the reconfiguration process must be halted to remove the "dark clouds of uncertainty from above the Brompton".
When the new reconfiguration proposals were published last year, Sir Ian Kennedy, who chaired the public inquiry into child deaths at Bristol Royal Infirmary in 2001, which led to previous attempts at reform, said: "These are vital services and we have waited 15 years to arrive at a solution which delivers quality and consistency for current and future generations.
"It is good news for patients that there is finally a clear consensus on the standards that need to be met and that we are now seeing decisive action to make those standards a reality for every patient in every part of the country."
An NHS England spokesman said: WWe all want to ensure that patients' care is as good as it can possibly be - that's why these standards for CHD services were developed, and why they were widely supported by clinicians and patients alike.
"We held over 30 events during our 22 week consultation so we could hear as many views as possible about our proposals to achieve excellent care for CHD patients."
Last July NHS Eng;and's position was supported by the Royal College of Surgeons and the Society for Cardiothoracic Surgery. In a joint statement they said: "We fully support these standards. NHS England must ensure that the standards are applied for the benefit of patients, by ensuring that expertise is concentrated where it is most appropriate."