Birmingham and Solihull to double number of midwife led births over next three years
Any increase in home births will likely come from a decrease in births at standalone midwife units, says national lead for maternity
Sarah-Jane Marsh says local maternity systems will likely match 44 STP footprints
Women only need have a conversation about types of birth six to seven months into pregnancy, she says
The national lead for maternity has said her local health system will look to more than double its rate of midwife led births by 2020 but suggested it would see a decrease in standalone unit births.
Sarah-Jane Marsh, who is chief executive of Birmingham Women's and Birmingham Children's Hospital foundation trusts as well as NHS England's lead for women's and children's care, told HSJ that Birmingham and Solihull will look to increase the total proportion of midwifery led births – at home, in midwifery units alongside doctor led units, and in standalone midwifery units -–from 13 to 30 per cent over the next three years.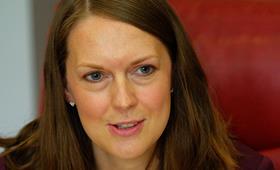 The Birmingham chief executive said it would be a "big challenge" to decrease the number of women needing obstetric led births to below 70 per cent because of the "risk factor" involved.
She also indicated that Birmingham would see a decrease in standalone unit births.
In October, Birmingham and Solihull published its sustainability and transformation plan, which revealed the intention to increase home births from 0.8 per cent to 5 per cent over the next three years, and increase midwife led births in standalone and alongside units from 11.7 to 15 per cent.
Ms Marsh said the plan is broadly based on the national maternity review's "better births" model, which said matching maternity services to meet women's choices would result in an increase of births at home or in standalone and alongside units.
According to the NHS England commissioned review, published last February, 9 per cent of births are carried out in "alongside" midwife units, while 2 per cent are carried out at home or in standalone units.
Talking about planned increases in home births across Birmingham and Solihull, Ms Marsh said: "If you up your [number of] home births you're probably going to decrease your standalone unit births because there are only so many women who are safe to be not close to an obstetrician."
Ms Marsh said that standalone units and home births are a "similar level of service" but for home births "you get more intense support because there has to be two midwives present."
In a separate statement to HSJ subsequent to the interview, Ms Marsh said stand alone and home were similar "in that all women get one to one care in labour, regardless of where they choose to give birth. The advantage of a home birth is that you are more likely to know your midwife and have built up a trusted relationship with them."
However, the trust chief predicted that the biggest increase in midwife led births would come from alongside units "where you get the best of both worlds".
"I think, if you ask experts in the field to do an analysis, most people will say that the safest option or least risk is midwifery alongside," she said.
Ms Marsh also suggested that conversations about the type or place of birth need only take place six to seven months into pregnancy.
The national maternity review suggested that providers and commissioners organise care in "local maternity systems". Ms Marsh said these would likely be mapped on to the 44 STP footprints.
When asked about the rollout of personal health budgets for maternity, she said they would "force a conversation about choice" but "don't in themselves bring about a better outcome".
Updated at 06 January 11am, and on 9 January at 10.30am to add a subsequent comment from Ms Marsh.