Author cited by NHS England has "no idea" where 125 operations per year figure came from
How many operations a surgeon should do "depends on the type of surgery", academic says
RCS backs NHS England recommendation
NHS England's congenital heart disease review acknowledged the 125 figure is "arbitrary"
The author of a government commissioned paper quoted by NHS England as evidence for its proposed reconfiguration of congenital heart surgery has questioned its use of her research.
Janette Turner's rapid review on the relationship between volumes and outcomes in congenital heart surgery was commissioned by the Department of Health.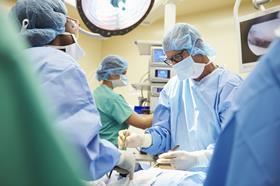 Her 2014 study was one of two referenced by NHS England when it made the case that a congenital heart surgeon must perform a minimum of 125 operations a year in order to maintain competence.
The figure, which is supported by the Royal College of Surgeons, was one of the key criteria used to decide which congenital heart surgery units in England should be downgraded.
NHS England announced plans to reconfigure congenital heart surgery last month, following a review of the quality and sustainability of existing services.
University Hospitals of Leicester and the Royal Brompton and Harefield trusts, whose congenital heart surgery services face closure as a result of the plans, immediately said they would challenge the outcome.
Ms Turner, who is joint principal investigator at the School of Health and Related Research at Sheffield University, told HSJ she had "no idea" how NHS England arrived at the 125 figure.
She said: "I certainly can't recall that I ever said that there was a minimum or maximum number of cases which should be done each year by an individual surgeon.
"One of the things we tried to make clear was that volume is not the only thing [when it comes to determining a positive outcome]. You need to have the right back-up teams and intensive care on site."
Under the heading "Evidence for 125 cases per surgeon", the congenital heart disease review said Ms Turner's research paper "found outcome was associated with surgeon volume".
"What we did was summarise evidence which was, in itself, very complex," Ms Turner said.
"Total volume was one of the factors that had an influence on outcome but… it is also to do with how trusts organise surgical services… if they've got really good paediatric intensive care units which are well staffed, if they have really committed surgeons who are highly trained – all those things come into play."
How many operations a surgeon should do "depends on the type of surgery", she said. "Some congenital heart disease surgery is much more complex than others."
Both the Royal Brompton and UHL told HSJ they believed they were on track to meet the standard of 125 operations per surgeon, despite having misgivings about the figure.
NHS England's review acknowledged the 125 figure was "arbitrary". It said: "Inevitably the setting of standards involves 'picking a number', and in the absence of data with a clear inflection point, this number will be arbitrary. That is sometimes the source of criticism but this of course ignores the fact that any number would be arbitrary."
The other research paper referenced by NHS England in relation to the 125 figure also does not mention the number.
Jonathan Fielden, NHS England's director of specialised commissioning, told HSJ: "Clinicians are very clear that 125 is the right number – a minimum level for an individual surgeon to do each year to maintain skillset and to allow enough speciality differentiation."
The RCS said the proposed standard of 125 operations a year was the result of "an extraordinarily detailed and comprehensive engagement with the clinical community of congenital heart disease specialists".
Janette Turner responds to HSJ
"As one of the authors of the rapid evidence review on surgical volume and outcome I would like to clarify that the purpose of this review was to summarise the existing evidence only and it was never expected to make recommendations on numbers of cases needed to maintain competence.
"I clearly acknowledged that our evidence review was only one source of information used by the NHS England review board and that decisions are not straightforward and can be difficult to make when there is incomplete evidence. I also made clear that our job is only to provide information.
"It was for others to make decisions and I had no involvement in this process, hence why I would have no knowledge about how the number of 125 was arrived at. There is therefore no reason why I personally would need to question how our evidence review was used."
NHS England 'failed to follow due process' for heart surgery shake-up
1

2

Currently reading

Questions raised over NHS England's use of heart surgery research