More than 70 per cent of acute services across seven trusts being reviewed
Includes paediatrics, critical care, anaesthetics and orthopaedics
Frustration that region has not yet received national funding for emergency reconfiguration agreed in 2015
New plans to reconfigure more than two-thirds of acute services across Greater Manchester are expected to be outlined later this year, the leader of its devolution team has said.
In an interview with HSJ, Jon Rouse said various workstreams are reviewing specialties and significant progress towards a final plan would be made by autumn.
He said it will be an iterative process and "not a big bang thing", but will involve more than 70 per cent of services across the region's seven acute trusts.
The specialties being reviewed are:
paediatrics;
respiratory;
cardiology;
orthopaedics;
breast services;
neuro-rehabilitation;
benign urology;
critical care and anaesthetics;
and vascular services
Mr Rouse, chief officer of Greater Manchester Health and Social Care Partnership, said: "The hospital strategy is in development with various workstreams beginning to come together. It will be more or less ready in late summer.
"We are then commissioning a model that will allow us to put those individual clinical models into it, but also to reconcile that with our estate and workforce [plans] and our financial envelope…
"It'll be done iteratively, so it's not a big bang thing. We are not coming up with some sort of blanket blueprint."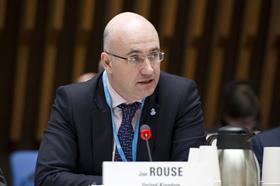 Emergency services in Greater Manchester have already been through a controversial public consultation process under the Healthier Together programme, which concluded in July 2015. However, there have been delays to its implementation.
NHS England and the Department of Health and Social Care announced up to £80m of capital funding in July 2017 to implement the changes but the money has still not received final sign off.
Mr Rouse said: "The process that has been set is very demanding in terms of what you have to produce and get approved. It's taken longer than we'd like.
"In the context of the [government's promised] 10 year plan, it would be good to have a more medium term approach to the allocation of capital, particularly for a devolved system like Greater Manchester."
He said the acute sector "probably" still accounts for too much of NHS spending in Greater Manchester but there is "danger" in assuming resources can be shifted to other areas.
He added: "Until you've got those community services and neighbourhood models not only operating fully but also demonstrating impact, you can't say we're spending too much on acute care. Our ambition is to spend less but only when we can demonstrate that we don't need it."
A reconfiguration plan for acute services in the city of Manchester is also ongoing, and this would need to be factored into the regional plans.
Mr Rouse also plans to lobby for major changes to the system of financial control totals for individual organisations in Greater Manchester, saying the region has been frustrated by the regime's restrictions.
He said: "Regardless of the 10 year plan we will be asking for a significant change in the system for 2019-20.
"We need a different construct, because if we're serious about system control totals then you can't have formula driven control totals imposed on you for individual organisations. It's got to be much more sophisticated than that."
The acute trusts in Greater Manchester are; Manchester University Foundation Trust; Pennine Acute Hospitals Trust; Salford Royal FT; Writhington Wigan and Leigh FT; Bolton FT; Tameside and Glossop Integrated Care FT; and Stockport FT.
This list of specialties has been amended to remove maternity services, which had been listed as part of the reconfiguration plans in documents published by GMHSCP. A spokeswoman said they are no longer in the programme. Benign urology and critical care & anaesthetics are now part of the programme, so have been added.