Simon Stevens promises "safe harbour" for NHS leaders making controversial changes as part of STPs
He says "support and shelter" needed to prevent "lots of leadership churn" as plans are implemented
Cites Lancashire's A&E downgrade as "a responsible set of actions under difficult circumstances"
NHS leaders planning to shake up local services through their sustainability and transformation plans will be given "safe harbour" by NHS England and NHS Improvement, Simon Stevens has said.
The NHS England chief executive said the arm's length bodies would provide "support and shelter" to prevent "lots of leadership churn" as health economies are changed under local sustainability and transformation plans.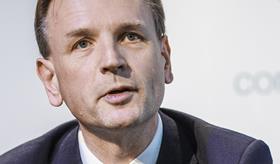 "When we have these agreed shared plans for how different parts of the country will need to evolve, I think NHS Improvement and ourselves would like to find a way of creating a safe harbour for the leaders who are going to drive that process," he said.
Mr Stevens said the national bodies would make a decision that "this is the team we're collectively going to bat with over the next three, four, five years".
"Provided we're all roughly on track with that and people don't do completely stupid things, then actually we're going to work with and provide sufficient support and shelter for people so that we don't have lots of leadership churn in what could potentially be challenging transition periods," he said.
He referred to Karen Partington's decision to downgrade an accident and emergency department at Lancashire Teaching Hospitals Foundation Trust as the type of action that would qualify for national cover.
The Lancashire chief executive was forced to downgrade one of the trust's two A&E departments after a crisis in locum doctor recruitment, which she attributed to other trusts not holding the line on capping locum rates.
Mr Stevens said: "I think that Karen Partington made the right decision about what was needed in Lancashire under the circumstances she was facing.
"I know it was tricky, it's given rise to some controversy, but I think Karen took a responsible set of actions under difficult circumstances."
Mr Stevens said the relationship between NHS England and NHS Improvement was "the best it's been in my two and a bit years [as NHS England chief executive]". The "safe harbour" would be a "shared endeavour", he added.
"I think if together we can be clear about the Care Quality Commission interactions, then the combination of NHS Improvement, the CQC [and] NHS England making that collective backing of a local Five Year Forward View implementation plan, aka STP, that stands us in as good a stead as we can get."
Mr Stevens has met leaders from about half of the 44 STP areas in recent weeks.
He said the experience was a "fantastic informal talent management exercise", which had given him "a sense of where there are some great people, able to and driving change".
Exclusive: Stevens floats 'combined authorities' for the NHS
1

2

3

Currently reading

'Safe harbour' promise for NHS leaders planning controversial changes

4

5