Primary care transformation will be "won or lost" over next two years, Simon Stevens says
Quality and outcomes framework to be replaced as it is "past its use by date"
NHS England chief also says junior doctor training needs overhaul within three years
Simon Stevens has said there is now "willingness" from GPs to change the model of primary care as their "backs are against the wall".
Speaking at the Health Foundation's annual conference today, Mr Stevens said primary care transformation will be "won or lost for most practices" over the next two years. He admitted that NHS England had to put a "lot more effort" into supporting practices working together.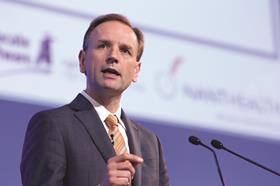 The NHS England chief executive added that the general practice quality and outcome framework is "past its use by date" and NHS England will spend the next 18 months devising a new system of incentives to help get "GPs off this treadmill". A spokesman for NHS England said it was too early to provide more details about what could replace the framework.
Mr Stevens also told the conference it was "essential over next 24 to 36 months we make some quite significant changes" to the way in which junior doctors are trained to help them "contribute" to system transformation. Although he did not quantify what those changes would be, he said: "In general we have bright and brilliant people coming in and they have a lot of that [attitude] squeezed out of them by the way training works".
He acknowledged that "very dysfunctional working practices have arisen since the year 2000" and recognised that the junior doctors' contract dispute was "the high water mark of a set of frustrations that had been brewing".
He said NHS England intended to address concerns that doctors were left unsupported, particularly at night; the extra burdens placed on them by offering more services 24 hours a day; and the inability for trainees to plan ahead because of lack of insight into their next rotation.