STP drops plans to centralise elective orthopaedics at only two sites
Three site plan being pursued instead
No "consensus" reached for initial model
A sustainability and transformation partnership in the capital has dropped plans to centralise elective orthopaedic work at two sites.
Commissioners in south east London consulted on changing the number of centres performing elective orthopaedic care from eight to two as part of their savings and efficiency plans.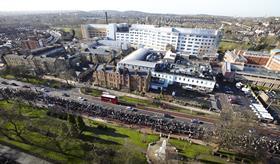 But the Our Healthier South East London STP wrote to councillors this week saying the plans for a two site model had been dropped. The STP's names is retained from a previous working group involved in the trust special administration process after the dissolution of South London Healthcare Trust in 2013.
A three site model will now be pursued – however, trusts failing to hit standards in 18 months could still have work sent elsewhere.
Lewisham and Greenwich Trust looked most likely to lose work, according to an early assessment by commissioners of where the centres would be best located.
Elective orthopaedic procedures are a significant income stream for most trusts and the overlap with trauma surgery can have implications for the viability of emergency services.
In a letter, programme director Mark Easton said: "Through this process we received strong representation that we should thoroughly test and describe a three site option for delivering orthopaedic care, and we should ask our providers to work collaboratively in describing that model.
"During these assessments, it has become clear that it has not been possible at this time for us to reach a consensus within the NHS in south east London on what the best model to adopt would be that met the conditions we had set out.
"We still intend to secure the patient benefits identified through the process, and therefore we will move forward with creating an orthopaedic clinical network across three sites to oversee the same delivery of quality and efficiency benefits over the next 12-18 months.
"The network will be appropriately resourced and a clinical director will be appointed by the STP. From next year we intend to commission our providers against the standards and performance metrics set out in [a] Getting it Right First Time report. The network's progress in delivering the quality and efficiency benefits will be independently assured by the London clinical senate."
South east London is one of 14 areas in England subject to the capped expenditure process but is in a better financial position than many STP areas.
Mr Easton added that the rest of the STP's programme would not require statutory consultation.
Lewisham councillor Alan Hall said: "This is a real victory for the Save Lewisham Hospital campaign and the joint health overview and scrutiny committee. Including Lewisham Hospital in the orthopaedic surgery sites was essential for good quality local services.
"It is not for Our Healthier South East London to decide whether formal public consultation is necessary but for the joint health overview and scrutiny committee. I will be asking for the detailed changes proposed and reserve the right to reconvene the committee across the six boroughs if significant developments surface in due course."
Source
Informartion obtained by HSJ