Leaders of West Yorkshire and Harrogate STP write draft memorandum of understanding
Aim for it to be signed by councils, commissioners and providers
MOU expected to commit the region's NHS organisations to a single control total
Leaders across a sustainability and transformation partnership are drafting a new agreement that could lead to the organisations in the STP sharing a control total.
Provider, commissioning and council leaders in West Yorkshire and Harrogate have drawn up a draft memorandum of understanding to formalise its governance and accountability arrangements.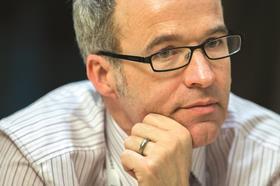 The MOU is expected to commit the NHS organisations in the West Yorkshire and Harrogate Health and Care Partnership – the name of the STP – to move towards a shared control for the region's annual £5bn healthcare budget.
Leaders are also discussing moving from payment by results contracts to "risk share arrangements [and] outcome based contracting".
Currently, the STP is managed through a partnership agreement with South West Yorkshire Partnership Foundation Trust chief executive Rob Webster as lead.
The region already has a joint committee of clinical commissioning groups and the West Yorkshire Association of Acute Trusts. Mental health providers are expected to sign a partnership agreement later this year.
The MOU would be the first agreement bringing together all the partners – including the local authorities – under a formal governance and accountability structure.
Mr Webster said the move was not just about strengthening the partnership's governance, but also about managing risk and accountability.
He said: "We have [agreements] between all the acute providers and between all the mental health providers, and the joint committee of CCGs, but we need to bring all that together into one and describe the arrangements and how they are going to work.
"The second thing is it reflects the practical things that are in place around financial strategy, control totals and the process of mutual accountability. We need to do quite a bit of work to get that in place."
Mr Webster said the MOU will also underpin discussions with NHS England and NHS Improvement over the STP becoming an accountable care system and what support it needs to be successful.
He added: "We are saying to be successful we need access to our fair share of [sustainability and transformation funding], capital funding and workforce funding. We need to agree with the centre what conditions are attached to that.
"One of them is likely to be a joint control total. The principle of a single control total is something we are working towards. The arrangements around that are what we need to nail down."
As well as a joint control total, the MOU said a new system oversight and assurance group will be set up in 2018-19.
Today, the STP published its "next steps" report, outlining its work so far and plans up to 2020-21. These include:
setting up 50 integrated neighbourhood teams providing community, primary, mental health and social care for populations of 30,000-50,000;
creating centres of excellence for specialist services such as heart surgery;
standardising commissioning policies across the region;
standardising acute pathways; and
publishing a financial and workforce strategy in 2018.