West, north and east Cumbria success regime launch public consultation on major overhaul of the region's healthcare
Plans include changes to maternity, children's, emergency, stroke and community services
Number of community hospital beds could be reduced
Proposal to close some specialist services at West Cumberland Hospital to consolidate them at Cumberland Infirmary
One of the success regimes to turnaround troubled health economies has proposed a major overhaul in the way healthcare is delivered across its patch, including significant changes to emergency, community and maternity services.
The west, north and east Cumbria success regime has launched a public consultation over its plans to redesign how hospital and community care is provided in the region.
The changes are aimed at cutting 2015-16's combined £70m overspend, which is predicted to rise to £163m by 2020; tackling staff shortages; reducing health inequalities; and improving care quality, including hitting the four hour accident and emergency and 18 week referral to treatment standards.
The consultation document, published last week, outlines a series of proposed changes for delivering:
maternity care;
children's services;
community hospital inpatient beds;
emergency and acute care;
stroke support; and
emergency surgery, trauma and orthopaedic services.
The region is one of three placed in a success regime by NHS England chief executive Simon Stevens last June to support troubled areas with serious financial problems and care quality and performance issues. The other two success regimes are in Devon and Essex.
The Cumbria success regime brings together: Cumbria Clinical Commissioning Group; North Cumbria University Hospitals Trust; Cumbria Partnership Foundation Trust; North West Ambulance Service; specialist providers and GP federations.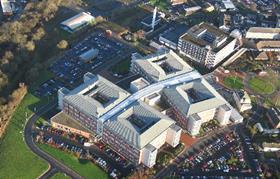 The consultation, which runs until 19 December, gives the public a chance to have a say in what model of care they want for each service.
Currently a variety of services in the region are split between Cumberland Infirmary in Carlisle and West Cumberland Hospital in Whitehaven – both run by North Cumbria. However, the consultation proposes reducing the number of specialist units at both sites.
It says by creating larger, more specialist units it will help the region recruit and retain staff. Only one in five consultant paediatrician posts are currently filled by a permanent member of staff at West Cumberland Hospital, and there is a 40 per cent vacancy rate in the region's A&E and emergency medicine teams.
The preferred option for maternity services involves keeping the consultant led unit in Carlisle but closing the unit in Whitehaven, and replacing it with a 24 hour standalone midwife led unit with an onsite consultant from 8am to 8pm.
Children's services could be consolidated with an inpatient paediatric unit at Cumberland Infirmary, closing the inpatient paediatric unit at West Cumberland Hospital and replacing it with a short-stay paediatric assessment unit with a small number of overnight beds.
The number of community hospital inpatient beds could be reduced from 133 to 104, spread over fewer sites.
The proposals recommend keeping the 24/7 A&Es at both hospitals with acute inpatient services - although that Whitehaven this will be achieved only with a novel clinical staffing model, and acute stroke cases would be managed at a single hyper-acute stroke unit based at Cumberland Infirmary.
Campaigners are protesting against the proposals, with more than 1,200 people already signing an online petition organised by the We Need West Cumberland Hospital group. MPs have also voiced concerns about the options being put forward.
Source
Source Date
September 26, 2016