Three STPs set out proposals to become an integrated care system by April 2019
Follows talks about merging the STPs
North Tees and Hartlepool FT chief executive Alan Foster will lead the work
Three northern sustainability and transformation partnerships have appointed a single leader and are aiming to become an integrated care system by April 2019.
HSJ revealed last year that the STPs for Northumberland, Tyne and Wear and North Durham; Darlington, Teesside, Hambleton, Richmondshire and Whitby; and West, North and East Cumbria were in talks to form a single footprint.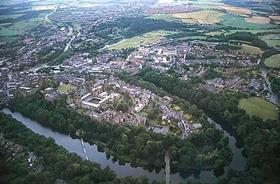 The plan would have created the largest STP in the country covering a population of 3.2 million – overtaking the Greater Manchester STP that has a population of 2.8 million.
HSJ understands merger plans are still being discussed. Meanwhile, regional leaders have set out proposals to strengthen integration across the three STP footprints.
A briefing paper to Hambleton, Richmondshire and Whitby Clinical Commissioning Group's governing body last month said the region is aiming to create an integrated care partnership by April 2019.
This could include a shared control total across the STPs but it will not prevent areas from developing their own joint working arrangements.
The paper said: "A clear ambition of our STP partners is for this genuine partnership approach to become the norm, and for local patches within our health system to deliver our shared objectives within the resources available.
"Difficult decisions will need to be made and the STP will provide a mechanism for managing financial risk and a forum to help us deliver a shared control total.
"Given our track record as a stable and high performing patch with a strong track record of innovation, the expectation from NHS England is that [Cumbria and the North East] starts preparing to become an integrated care partnership by April 2019."
The paper said North Tees and Hartlepool Foundation Trust chief executive Alan Foster was made lead for all three STPs in October.
His mandate includes:
creating a shared STP plan;
developing a system of collective governance;
maintaining financial sustainability and enabling organisations to make greater efficiencies through working together; and
leading the development of a Cumbria and North East integrated care system.
Mr Foster will remain accountable officer at the trust but his role is being filled on an interim basis by chief operating officer and deputy chief executive Julie Gillon.
The regions already have shared work programmes including the North East and North Cumbria Urgent and Emergency Care Network; regional quality, innovation, productivity and prevention and medicines optimisation groups; the Great North Care Record; and joint commissioning arrangements for ambulance services.
Each of the regions has its own plan for introducing new care models but HSJ understands these could sit within an integrated care system across the three STPs.
It is unclear what formal process the STPs will have to go through to complete the partnership or who must approve it.
The STP has also set up a joint health strategy group featuring the 12 CCG chief officers and 11 trust chief executives. It is chaired by Mr Foster and includes representatives from NHS England, NHS Improvement, Health Education England and Public Health England.
The 12 CCGs have already set up a joint commissioning committee with delegated decision making powers.