Leading figures from health and social care have called for a crisis meeting with chancellor George Osborne and other senior ministers after finding last month's spending review left them unable to meet rising demand.
In a letter to the chancellor, health secretary Jeremy Hunt and communities secretary Greg Clark, they argued that the extra 2 per cent council tax precept for social care was insufficient to meet increasing costs and was anyway likely to raise extra money in the places least in need of it.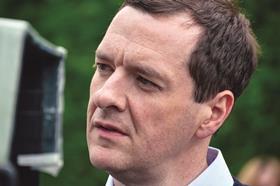 Resources for social care from the better care fund were "back-loaded… not reaching levels of any significance until towards the end of this parliament", it added.
HSJ's sister title Local Government Chronicle revealed this week that although the chancellor announced an additional £1.5bn for the fund in 2019-20, there will only be £100m of additional cash available in 2017-18 and about £700m in 2018-19.
The letter was signed by the Association of Directors of Adult Social Services, the NHS Confederation, the Care Providers Alliance and the Care and Support Alliance.
They also called on ministers to explain where the £6bn originally earmarked for implementation of phase two of the Care Act, now postponed, had gone.
They warned ministers: "We must press you to explore every possible means by which the more significant levels of funding are made available earlier to mitigate growing risks to individuals, their families and carers, to care providers and the NHS.
"The funding crisis is particularly acute now (before winter has even begun properly) and in the next couple of years."
It said the sector could not meet its existing funding gap, costs of future demand or pay the national living wage to staff.
These factors could bring about failures among domiciliary, residential and nursing home providers, which were most likely "in those areas of the country where providers are predominantly delivering support to state funded clients".
The letter continued: "These are exactly the areas of the country that additionally will raise the least areas of council tax."
This situation would increase the amount of unmet need, and see people for whom insufficient care was available admitted unnecessarily to hospitals so jeopardising the delivery of NHS plans, the letter said.