The focus on short term targets for reducing delayed transfers of care from hospital could put elderly people at risk, the Care Quality Commission's chief inspector of social care has warned.
Andrea Sutcliffe told Local Government Chronicle the focus must remain on protecting people from harm "whatever the short term imperatives are".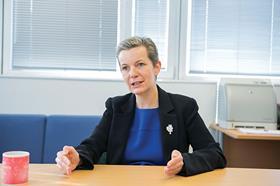 At the National Children and Adult Services Conference last week, Ms Sutcliffe said she was worried about the impact of a "heightened level of tension" between councils and local NHS organisations over delayed transfers that could cause relationships to be "fractured".
She later told LGC that while delayed transfers of care are a "key measure" of quality of services, there are "a lot of other things that impact on that" such as how people's care needs are met in their own homes to prevent them for entering hospital.
Ms Sutcliffe admitted that the focus on DTOCs had created "a bit of a bind" and added: "What is worrying is that people are feeling that they are not able to address some of those other problems that they know will help because we are focused on one measure.
"I worry that if people focus just on moving people through the system quickly then does that mean that they will force the discharge of somebody that is old and frail into a service which we have rated inadequat', which would put them at risk potentially."
Communities secretary Sajid Javid and health secretary Jeremy Hunt last week jointly wrote to 32 councils warning them that their social care funding could be cut next year if they do not significantly improve their delayed transfers of care performance.
Local Government Association chair Lord Porter told said the government had initially planned to withdraw funding from some councils this financial year, but ministers are now expected to nationally direct how the money is used next year in local systems which have not reduced delayed transfers at the required rate.
Ms Sutcliffe acknowledged councils feel they are being asked to "sign up to targets that are not deliverable" and said she was concerned organisations may "hunker down in their silos and not do the things they need to do to improve the system" if relationships are not maintained.
She added: "I would encourage people to continue to do the right thing; to continue to think about what the things we can do across the whole way that people go through the health and social care system.
"People really have to hold on to what are the right things to do – hold on to good relationships and also make sure they are not compromising on safety."
The CQC State of Care report, published last week, said the future quality of services is "precarious" due to financial and demographic pressures.
While the overall standard of services had improved slightly on last year, Ms Sutcliffe said there had been a "worrying" slowing down in the rate of improvement.
She said: "We are now starting to go back to inspect good services and 23 per cent of those have deteriorated, which is a real concern because this is about the ability of people to maintain the good quality of care that we have previously seen.
"The comparison of the rate of improvement to the rate of decline is changing. This time last year, for every service that declined, five improved. This year it is a ratio of one to two."
The report highlighted safety and leadership as key areas of weakness in the system. Ms Sutcliffe said safety was being undermined by the difficulty in recruiting and retaining people who are "sufficiently qualified and capable", while there was also a shortage of "good quality" service leaders.