Andy Burnham says handing the running of social care services to the NHS would be a "main priority" if he becomes Greater Manchester mayor
Former health secretary says the fact the region had a health and social care devolution deal was the "clinching factor" as to why he stood in Manchester not Liverpool
Criticises the way the region's devolution deals have been agreed
Andy Burnham, Labour's candidate to become Greater Manchester's first elected mayor, has said handing control of running the region's social care services to the NHS would be one of his "main priorities" if he is elected to the new role.
In an interview with HSJ's sister title Local Government Chronicle, Mr Burnham also criticised the way the region's devolution deals have been agreed and said the way politics was conducted in Greater Manchester needed to change.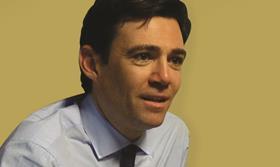 After beating interim mayor Tony Lloyd and Bury South MP Ivan Lewis in a vote among Labour members, Mr Burnham will aim to become the first elected mayor of Greater Manchester next May.
On the NHS, the former health secretary said the fact the region had a health and social care devolution deal was the "clinching factor" as to why he stood in Greater Manchester rather than the Liverpool City Region.
He said: "The plan is for local government to be commissioning but with the NHS as the preferred provider. I think we'll get more for our money if we ask the NHS to provide that care as part of an integrated service.
"I can't mandate that the councils in Greater Manchester [do this] but I would want to encourage them to share that vision, sign up to and share it."
Mr Burnham said some of the companies councils were commissioning to deliver social care services "are not worthy of that role". He added: "The culture of 15 minute visits, zero hours contracts, staff with no training – that's got to come to an end. I want to bring it to an end. I want to create a new partnership between local government and the NHS."
The mayor will not have direct control over the region's £6bn health and social care budget, as control will remain with clinical commissioning groups and the city's metropolitan borough councils respectively. However, the mayor is expected to be an influential voice in shaping public policy in the region.
Mr Burnham has previously expressed reservations about Greater Manchester's devolution deal, which has seen the region gain control of its £6bn health and social care budget.
While he "wasn't completely opposed" to the principle of it, Mr Burnham said: "I was opposed to the way the deal was done."
Devolution deals to date have involved local leaders, chief executives and senior officers negotiating with ministers and civil servants largely behind closed doors.
Mr Burnham said he was "not necessarily having a dig at any individual" but "there has been a closed culture".
LGC reported in June how Manchester City Council chief executive Sir Howard Bernstein had defended the region's relationship with former chancellor George Osborne.
At the time Sir Howard said: "This was not about local authority leaders doing some cosy relationship with a Conservative chancellor of the exchequer – nothing could be further from the truth."
During the nomination campaign, Mr Burnham only received the backing of one of the 10 council leaders in the region – Wigan metropolitan borough council's Lord Smith.
Mr Burnham did not envisage that would be a problem in the future but added: "I make no apology for saying that the politics here does need to change. It's been too closed.
"We need to let a little bit of fresh air into Greater Manchester politics. We need to open it up, not only to councillors and local members but also to faith groups, business groups, the community and voluntary organisations. We need to change the way we do things.
"A lot of this has been imposed top-down on people. I'm not saying that's wrong as deals had to be made to move us forward but now those deals have been made we need to rebalance things and change the way politics is done, and that's what I'm going to do."
Mr Burnham also thought the region's leaders had been "very much focussed on [Manchester] city centre and not enough on the proud outlying towns" over the last 20 years. He said those were the places that voted to leave the EU.
The winner of the election will gain powers over transport, housing and planning, as well as police and fire services, as part of a series of devolution deals the region has negotiated with the government. Mr Burnham highlighted tackling the housing crisis and transport issues in his selection speech. He told LGC he also wanted to seek greater control of funding from the Department for Work and Pensions to tackle unemployment.
Ministers accused of 'preventing real NHS devolution'
1

2

Currently reading

Integrated care a 'main priority' for Greater Manchester, says Burnham

3