CCGs sent letter to 127 wards telling staff not to request non-emergency patient transport discharges after 6pm
Patient transport service has been run by South Central Ambulance Service since 2014
Commissioners say the service requires a four hour turnaround and staff must identify patients for discharge earlier
More than 100 hospital wards across South Central England have been told they must prioritise patients for discharge before 6pm at night.
A leaked letter from the South Central and West Commissioning Support Unit was sent on behalf of the region's clinical commissioning groups directly to ward managers without being discussed with trust leaders.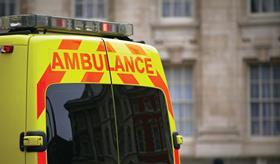 It was aimed at tackling delays for patients who need non-emergency transport after being discharged. The service, run by South Central Ambulance Service under contract since 2014, works until 10pm and requires a four hour window for each discharge.
The letter, sent to 127 ward managers, said from 1 October discharge requests received after 6pm would not be accepted.
HSJ understands the request to send the letter was made by CCG managers and was drafted and agreed by commissioners.
A source told HSJ the letter was an example of "the madness that is going on" in the acute sector. They said: "The acute sector is under so much pressure and everyone is working so hard. Yet apparently the reality of a 24/7 NHS is that we can't make a decision to discharge anyone who needs patient transport after 6pm.
"The letter was sent directly to wards in every hospital in the region – without any prior notice or discussion with the acute sector leadership teams."
The letter said: "As part of the specification requirements for 'on the day requests' commissioners requested a contractual cut off time of 6pm for discharges and transfers. This means that to ensure capacity is available for patients who are eligible for transport, all discharge and transfer requests must be made by 6pm."
The letter, signed by Luke Stacey, contracts manager for South Central and West CSU, said since the PTS contract had started there had been requests for discharges made after 6pm that the ambulance service had done its best to deliver.
"Increasing demands and pressures on the service mean this is now no longer sustainable and from Saturday 1 October SCAS will no longer accept 'on the day' discharges/transfer requests from wards after 6pm," it said.
It warned staff that patients eligible for the service needed to be identified earlier in the day to prevent delays and impacts on patient flow.
A spokesman for Fareham and Gosport, and South Eastern Hampshire CCGs – the lead commissioners for the contract – said: "There has been no change to the specification of this service since it was agreed in 2014. Rather, staff working elsewhere in the NHS, who may need to book transport for their patients, have been reminded how this patient transport service is contracted to operate, and asked to work to the previously agreed timescales when arranging a journey.
"That means arranging for planned journeys to take place before 10pm, which has always been the expectation since the contract was set up, and is in line with best practice for patients."
Source
Information provided to HSJ