Senior staff at South East Coast Ambulance Service accused of "command and control" leadership
Allegations from female staff and students of sexual harassment and grooming
New chief executive says 'behaviours the report describes are completely unacceptable'
A damning report has revealed a culture of bullying, harassment and alleged sexual predation at an ambulance trust that managers failed to address, leaving employees "bereft of both confidence and direction".
Senior staff at South East Coast Ambulance Service Foundation Trust were accused of using a "militaristic style of leadership" based on "command and control".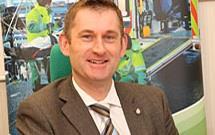 Staff reported rarely seeing them and said there was an "old boys' club" where "your face had to fit". Some people were felt to be "untouchable" and able to do what they wanted without fear of being stopped. Those accused of bullying were sometimes moved into "special projects".
The independent report, published today, was commissioned by the trust after concerns were highlighted by inspectors and in its staff survey. The research was led by Professor Duncan Lewis from Plymouth University.
In Kent, some female staff and students were alleged to have been harassed or groomed, with sexual favours being sought in return for career progression. Some talked of "sexual predators" among male colleagues and highly sexualised gazing in font of colleagues and patients.
While the researchers warned they could not confirm that sexualised behaviour was commonplace, they said the allegations needed to be investigated "to protect employees who are living in fear every day".
The report largely relies on what staff reported in surveys, focus groups and one to one meetings, however, it concluded: "There is clear and unmistakeable evidence that locations such as Coxheath [in Maidstone, Kent] and to a lesser extent Tangmere [in West Sussex] are plagued by poor practices/behaviours."
New chief executive Daren Mochrie – who joined the trust in April – said: "The behaviours the report describes are completely unacceptable and will not be tolerated, in any sense and at any level, moving forward."
The report was commissioned after concerns were highlighted in the trust's Care Quality Commission report and staff survey. The research followed a long period of turmoil at the trust. The trust was criticised for unilaterally changing the way it dealt with some calls; several executive board members, including its chief executive, had departed; and a national newspaper revealed two staff members had attempted suicide, after alleged bullying incidents.
The researchers found some staff were afraid to talk to them because they thought they risked losing their jobs if they did. A small number needed "weeks of coaching and reassurance" before they would agree to interviews.
A survey circulated to all staff got a response rate of more than 50 per cent, with one in 25 of those responding saying they were bullied daily. Forty-two per cent said they had some experience of bullying within the last 12 months. Over a third had felt threatened while at work and a similar number reported experiencing intimidating behaviour. Around half felt they were treated in a disrespectful or rude way. There was concern that managers micromanaged staff who felt "checked up on".
The trust had a "grievance culture" where staff suspensions sometimes appeared to be without an obvious reasons or explanation, and threats of suspension or dismissal were "idly tossed at employees" leaving them anxious and uncertain about what was happening. Some employees reported meetings which were meant to be informal suddenly becoming formal, leaving them without representation. Employees with disabilities and long term health conditions appeared to be poorly supported, and some actions towards them could have left the trust at risk of litigation
Examples given to the research team included numerous accounts of being shouted at in public and belittled in front of others. Some staff had concerns about being dismissed and complainants were ignored in front of others. "These claims were so widespread that the researchers feel there must be substance to them and as such, provide clear evidence of the need for root and branch intervention for some manager/colleague behaviours," the report said.
It added that the reasons for bullying and harassment are "firmly located in manager behaviours and managers who fail to address colleague behaviours". However, managers also reported feeling poorly equipped for the task of management. The researchers were told some managers were appointed despite failing assessment criteria.
The report added: "Fundamental to addressing bullying and harassment is top level leadership and this has been frequently changing, sometimes absent, and often questionable as to their intent to tackle bullying and harassment in the recent past.
"Several employees felt there was little point in reporting bullying and harassment issues because managers will default to supporting each other rather than taking a complaint seriously and at face value."
It stressed the importance of the human resources department and the need to strengthen this within the trust. The report said: "[The trust] will not be able to progress its attempts at tackling bullying and harassment until such time that HR functions as it should." Behaviours fell short of good practice around privacy, confidentiality and qualification.
Professor Lewis' recommendations included:
a drive to change the"macho, work hard, play hard culture in some quarters to better represent the care expectations of a contemporary NHS";
building a partnership with unions to move away from the "grievance/investigation culture" and improve staff engagement;
more prominent roles for governors and non-executive directors;
enhance training and support of managers, but also make them accountable; and
a steering group empowered to scrutinise data and drive change at board level.
Source
Professor Lewis' report; trust statement
Bullying, harassment and 'militaristic leadership' exposed at trust
1

Currently reading

Bullying, harassment and 'militaristic leadership' exposed at trust

2

3