NHS 111 calls not responded to quickly enough by South East Coast Ambulance
Staffing shortages not handled efficiently, CQC finds
Trust has until 10 September to respond to CQC
QUALITY: The Care Quality Commission has issued a warning notice to South East Coast Ambulance Service Foundation Trust telling it to make significant improvements in six areas of concern.
Poor use of staff was the first issue identified by the CQC: shortages have meant ambulance staff working long hours and stress. The systems in place to ensure staff are deployed efficiently "are not working effectively", the notice said.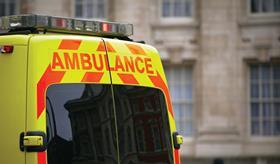 The regulator also said NHS 111 calls are not always responded to in a "timely and effective manner".
Processes to ensure that equipment is properly maintained and secured inside the ambulances were "not adequate".
Safeguarding processes to prevent abuse of service users were not operating effectively. In some instances staff had no record of safeguarding training they were supposed to have completed.
The storage of medicines was also a cause of concern, with CQC finding the systems in place were not operating safely and effectively.
The final point on the notice was about poor governance. The CQC said systems to assess, monitor and improve safety and quality of services were not operating effectively.
The trust has until 10 September to respond to each of the points.
South East Coast Ambulance Service has been under scrutiny since it launched a controversial scheme in 2014-15 in which some patients calling NHS 111 were re-triaged, which increased the length of time patients waited for an ambulance response to certain call.
In some instances this led to delays of up to 10 minutes before an ambulance was dispatched.
Chief executive Paul Sutton was criticised in a review by Deloitte for implementing "a high-risk and sensitive project without adequate clinical assessment or appraisal by the board, commissioners or the NHS 111 service". He resigned in May.
Geraint Davies, acting chief executive, apologised for "not providing the service that the communities we serve should expect and deserve".
An action plan has been drawn up which will be tracked by the trust's executive team and board.
The trusts plans to increase the number of staff; implement a new asset register for clinical equipment; ensure that staff are up to date in their training with regard to handling medicines; and increase staff recruitment to NHS 111.
The trust also plans to introduce a new "patient safety and quality director" to oversee all aspects of patient safety, safeguarding and patient experience.
The full CQC report is due to be published by early September.