The ambulance trust covering the South East Coast has seen its performance for emergency calls slump to the lowest ever recorded by any service.
South East Coast Ambulance Service Foundation Trust reached just 50.8 per cent of red one calls – the most serious, including where the patient has a cardiac arrest – in eight minutes in September. Performance for less serious red two calls was 39.9 per cent in eight minutes. The national target for both categories is 75 per cent within eight minutes.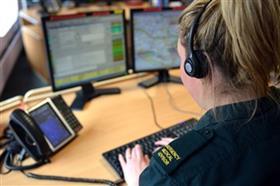 The figures are the lowest ever recorded by an ambulance service since May 2012, when the present system of measuring performance was introduced, and follow a steady decline in the trust's performance. It was rated inadequate and placed in special measures last autumn.
Until very recently, it was rare for any ambulance trusts to have performance below 70 per cent, except in times of extreme pressure such as during a difficult winter. The small Isle of Wight ambulance service had red one performance of 52.5 per cent in December 2016 but this probably reflected its size and inability to increase capacity.
South East Coast Ambulance chief executive Daren Mochrie, who joined the trust in April, described the performance as "extremely disappointing" in a report to the board.
He said the trust is undergoing significant change in its emergency operations centres and had lost around 40 staff working in the new centre in Crawley since April, but is trying to recruit more. Staff have received training for a new computer aided dispatch system and a new national system of classifying and responding calls, which may have affected performance.
Mr Mochrie added: "We have also seen a significant rise in the overall acuity of our activity, with red activity increasing to some 44 per cent of the overall activity compared to 36 per cent three months ago."
The trust also saw a dramatic decline in calls being answered within five seconds – 48.6 per cent compared with 72.4 per cent in September 2016 – which may have affected the red one performance. Figures presented to the board show it was taking longer to allocate a call to an ambulance. Both slow call answering and delayed despatch of ambulances was leading to serious incidents – eight of the trust's 13 serious incidents in September were linked to this.
A trust statement added: "Our executive team are continuing to closely monitor 999 performance on a weekly basis to ensure our performance improves and patients receive the service they rightly expect.
"We recognise that along with ambulance services nationally we are not meeting response time targets. We also recognise that in recent months our performance has continued to be lower than we would like due to a number of factors. We continue to experience year on year increases in demand and we are very proud of the efforts and professionalism of all our staff."
Ambulance services are moving to a new system of performance standards, which has been trialled extensively over the last two years, meaning data for some trusts has not been available.
In July, Jeremy Hunt announced the ambulance response programme would be rolled out across all ambulance trusts. This will lead to many emergencies currently categorised as red two being given a new response time of 19 minutes. Call handlers will also have more time to assess calls before deciding whether to send an ambulance. Trusts will be measured by their average response time.
All ambulance services are expected to have moved to this system by 22 November with London and South East Coast the last to change.
Source
Trust board papers; information provided to HSJ