South East Coast Ambulance rated inadequate by CQC
System failed to record 999 calls
Chief executive "disappointed that not enough progress has been made"
A troubled ambulance trust is set to remain in special measures after a Care Quality Commission inspection found a new problem with recording 999 calls.
South East Coast Ambulance Service Foundation Trust is rated inadequate overall after the May inspection of its emergency operations centres, which were rated requires improvement, and emergency and urgent care, which was rated inadequate.
The CQC inspectors found:
The voice recording system had failed to consistently record all 999 calls since January this year, which meant the trust failed to keep complete records. The computer aided despatch system was also unstable with two serious business continuity incidents within a year. It has now been replaced.
The executive team did not have sufficient grasp of the risks around the system and the trust's governance procedures remained inadequate with poor communication with staff.
The trust did not always make appropriate arrangements for medicines and there was "poor practice" in medicine management. There had been little improvement in this despite concerns being raised in a previous inspection. The trust also declared a major incident over the procurement and use of medicine where labels were not printed in English.
Patients' clinical records were not always completed or stored securely.
There were sometimes insufficient staff in the emergency operations centres and there was not always a clinician on site in each centre.
The trust performed worse than average on many key performance measures. Red one and two calls performance had deteriorated since the last inspection. The 2016 staff survey showed it did badly on most measures compared with other ambulance trusts.
Some staff thought the culture was improving, with less bullying and harassment, but there were concerns about the consistency of the culture across the trust.
Areas of outstanding practice were the mental health street triage service and the hazardous area response team. Staff were also praised for their compassion and the trust was rated good for caring.
The trust's NHS 111 service, operated in partnership with Care UK Surrey, was also inspected and rated good.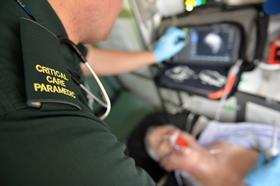 The trust appointed a new chair and chief executive shortly before the May inspection, though many senior posts were still filled by interims. The CQC found improvements in how the board was working including fewer "inter-executive" grievances and more appropriate use of non-executives.
Chief executive Daren Mochrie said: "While I am disappointed that not enough progress has been made for us to improve our overall rating, I am confident that progress is being made and that this will continue. I believe that the pace of improvement has picked up since the CQC visit in May but I am very aware, as is our senior team, that there remains a significant amount of work to be done.
"Our updated improvement plan focuses on the areas where we are determined to make major improvements in the months ahead. We are working with our local commissioners to ensure that we are funded appropriately and have the right resources to meet the demand we are facing."
CQC chief inspector of hospitals Professor Ted Baker said the progress was not enough to recommend the trust came out of special measures. "I am concerned that the previous leadership had not fully addressed longstanding cultural issues and in particular the historical problems of bullying and harassment. While the problem is now being addressed there is still work to be done here and in the management of medicines," he said.
"It is clear there have been deep rooted problems and the trust would now benefit from a period of stable management to address these issues," he added.
Source date
5 October 2017