Cygnet hospital could lose its registration if improvements are not found this month
CQC suspects provider may have committed a criminal offence
Private firm rocked by closures due to quality concerns in recent months
A major private mental health provider rocked by quality concerns in recent months has had to close most of its beds for young people at its one remaining site in the South East – amid concerns it may have committed a criminal offence.
Cygnet Hospital Godden Green in Kent is to face a comprehensive Care Quality Commission inspection this month and may lose its registration unless improvements are made in response to a highly critical report on its children and adolescent mental health services.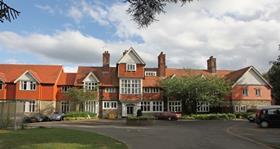 Admissions to the two CAMHS wards at the hospital, near Sevenoaks, have been restricted to just eight, down from 24, and the CQC has taken enforcement action. It has issued three warning notices and fixed penalty notices for failing to make "required notifications" of patient safety incidents.
Natasha Sloman, CQC head of hospital inspection for mental health, said: "We have grounds to suspect the provider has committed a criminal office of failing without delay to notify the CQC of incidents." If the service at the hospital remained unsatisfactory, the CQC would consider cancelling the hospital's registration, she added.
Cygnet Health Care is a partner in a CAMHS new model of care pilot for the South East, which devolves control over budgets for tier four inpatient services with a key aim of reducing out of area placements. But its Woking site is no longer providing CAMHS after services were rated inadequate last year, leaving the provider with the two CAMHS wards at Godden Green, providing 24 beds in total.
Godden Green had previous restrictions on admissions lifted in September. But an "urgent" inspection in November, prompted by concerns reported to the CQC, found:
Staff were "often reliant on police intervention" to manage incidents in the hospital, and were not always competent and skilled. The police raised concerns about this.
There was poor individual risk assessment with incidents not leading to reviews, which meant there were repeated preventable incidents.
Seclusion and segregation were being used to control and contain young people in the absence of other approaches.
Some safeguarding concerns were not reported either internally or with external agencies.
Patients could climb on the roof of the hospital's conservatory using garden furniture. Unlocked doors meant they could access kitchen equipment to self-harm or harm others.
There were some improvements since inspectors last visited. Ms Sloman said she was "hopeful" the hospital would do what was required to improve.
Cygnet said it had taken steps to address many of the concerns, including closing part of the hospital while an upgrade is undertaken; completing a review of systems and processes for incident reporting and documentation, as well as extensive staff training; and establishing a specialist management team with extensive CAMHS experience.
Nicky McLeod, Cygnet's chief operating officer, said: "We are working very closely with the CQC and NHS England and a full inspection is expected for February, and we are confident that will see significant improvements. Patient care remains our top priority and we are committed to continuously improving our procedures, protocols and training, which we recognise are all critical to providing the highest standards of healthcare."
An NHS England spokesman said: "Patient safety is our priority and we expect Cygnet to act, in full and quickly, where the CQC has recommended improvements. Local and regional NHS leaders in other parts of the country where Cygnet delivers care will work with the CQC to monitor and improve patient care.
"NHS leadership has raised with senior management Cygnet's recent poor performance. Whilst the majority of services delivered by Cygnet for the NHS in England are good, we expect Cygnet's national management to ensure all their services meet the high standards patients rightly expect."