South Warwickshire FT first to use planning regulations to claim contributions from housing developers to help fund acute services
Trust has a pipeline of £13m funding and has already used contributions towards new hospital
More trusts looking at development contributions to plug revenue gaps
Lawyer predicts impact across the NHS could be "massive"
Trusts could use housing developments to tap into tens of millions of pounds in new income, after a West Midlands trust set a new legal precedent.
Stratford Hospital, run by South Warwickshire Foundation Trust, opened its doors today as the first major acute facility with new services supported by revenue from property developers.
The trust has amassed £2m so far, with £11m in the pipeline, by applying for "section 106" contributions on new housing projects to meet a projected revenue gap created by increased service demand from new residents in their first year of moving in.
While predicting housing growth is difficult, if local council delivery plans are correct then South Warwickshire would eventually accrue tens of millions through contributions.
The money has gone toward running wards at the £22m new hospital, including a cancer unit, eye unit and community facilities.
Section 106 of the Town and Country Planning Act 1990 has historically been used to force developers to help pay for new schools, roads and primary care necessary to support the larger population generated by the development.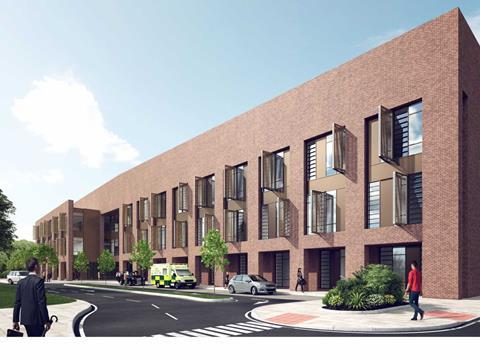 South Warwickshire is the first trust known to attempt to seek to impose section 106 payments for acute or community services. Development director Jayne Blacklay, who led the section 106 application, said any trust could push for payments.
"Any revenue stream at the moment is very helpful. It is not an insignificant amount of money," she said.
HSJ understands at least five other trusts are looking at making similar claims on new developments.
A University Hospitals Coventry and Warwickshire Trust spokesman confirmed it had reached an agreement with Coventry city council to accept section 106 claims.
George Eliot Hospital Trust was in the early stages of doing the same, HSJ understands.
South Warwickshire has set a precedent with two appeal decisions last year that supported acute and community health providers' right to claim contributions through section 106. At one stage, the communities secretary was involved in upholding the trust's argument.
Ms Blacklay said it had taken nearly three years to demonstrate to local authorities that the trust had a robust model for predicting growth in healthcare demand, and withstand challenges from developers.
The basis on which the trust claimed section 106 contributions is relatively narrow. Specifically the money is to address a revenue gap, arising from increased service demand from the new residents, in their first year of occupation.
This equates to a £1,500 levy on each new dwelling in a large residential development. The trust now puts in a section 106 application for any development of more than 50 homes. Ms Blacklay said the trust was looking at whether there were other ways to leverage further contributions to meet its capital costs.
Leenamari Aantaa-Collier, a specialist planning lawyer that worked with South Warwickshire and is helping other trusts, said the revenue implications for the whole NHS could be "massive".
However, while South Warwickshire has established a precedent, trusts hoping to tap into section 106 contributions would still have develop a strong case to convince local authorities.
For an application to be successful the trust needs to clearly demonstrate extra acute or community capacity was necessary; that the need was directly related to the development; and the sum being requested was reasonable.
"There is a lot of potential to work with local council to make this work. It is labour intensive at the start but once you have a system in place its quite easy," Ms Aantaa-Collier said.