Katrina Percy resigns from Southern Health FT less than six weeks into strategic advisory role
She will receive 12 months' salary, with agreement from the trust, NHSI, the Department of Health and the Treasury
NHSI says legal advice suggested there were "no legal grounds" to dismiss Ms Percy, and doing so would have resulted in "greater cost" to taxpayer
Katrina Percy has resigned from her role as a strategic adviser at Southern Health Foundation Trust after less than six weeks in the role.
The troubled trust said after receiving concerns from "public, patients and families", it had decided it was "no longer possible" for her to continue in the role.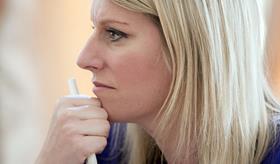 She will receive 12 months' pay, covering six months' contractually entitled salary and a further six months that was "deemed by all parties… as a fair payment in all the circumstances".
Ms Percy resigned as chief executive of Southern Health on 30 August. She had been under huge pressure since the publication in December of a report by the audit firm Mazars, which highlighted failures at the trust to investigate and learn from patient deaths.
However, she took up a new role at the trust providing "strategic advice" to GPs in their work redesigning services in Hampshire.
The move provoked huge controversy because Ms Percy was set to receive her chief executive salary, which was listed in the trust's annual report as between £185,000 and £195,000.
It later emerged that the new role did not previously exist and was not advertised for. A few weeks after the announcement Southern Health's interim chair, Tim Smart, stood down after less than five months in the job.
In a statement today, the Southern Health board said that after Ms Percy's appointment to the advisory role it had received "correspondence from the public, patients and families expressing their concerns" and had "reflected".
It said: "Both the trust and NHS Improvement believe it is no longer possible for Katrina to continue in her new advisory role. Katrina shares this view and we have worked with NHS Improvement to come to a settlement where she will leave Southern Health with immediate effect, to pursue other opportunities."
The trust said Ms Percy was contractually entitled to six months' salary, but because "independent capability reviews" had determined she was fit to lead and there was no evidence of negligence or incompetence, she would receive an extra six month's pay.
However, if Ms Percy returns to employment elsewhere in the NHS in the next 12 months she will have to repay some or all of this payment.
"This settlement is supported by NHSI Improvement… by the Department of Health, and by HM Treasury as an appropriate expenditure of public funds," the trust said.
Ms Percy said: "I reflected on the responses to my remaining employed by the trust working as a regional strategic adviser.
"After discussing the current situation with colleagues, we have come to the conclusion that it is not possible for me to continue with my work supporting GPs as they develop new ways of working in Hampshire and the Isle of Wight."
She added: "I would like to offer to all those connected with the trust – patients, their families, the skilled and caring staff and the trust's partners, as well as the GPs of Hampshire – my very best wishes for the future."
A spokesman for NHS Improvement said Ms Percy's role had "clearly become untenable".
He added that Mr Smart had received advice there were "no legal grounds upon which to dismiss her", and that doing so would leave the trust open to legal action "and the very real possibility of significant costs to the taxpayer".
The spokesman said Mr Smart had explored a way of her standing down as chief executive while "continuing to contribute" to local health services as an advisor for a period of 12 months.
However, it had become clear in the weeks after the announcement that "this agreement cannot now be delivered" and NHSI and the trust had renegotiated for her to leave immediately, he said.
Commenting on the financial settlement, the spokesman said: "We know that this won't please some who think she ought to have received no payment at all, and in situations like this, a perfect deal is not possible.
"But the strong legal advice we have received is that to do anything else would have a much greater cost to the public purse and, as a consequence, would go against good management of public money."
Source
Trust and NHS Improvement statements
Source date
7 October 2016