One in four staff who leave Southern Health FT have spent less than two years at the trust
New chief executive says trust's brand needs to be improved
Nick Broughton joined the organisation in November
Tackling staff retention is among the biggest priorities for the new chief executive of a scandal hit community and mental health trust.
Nick Broughton, who joined as chief executive of Southern Health Foundation Trust last month, said one of his biggest concerns is the number of staff who leave the organisation less than two years after joining.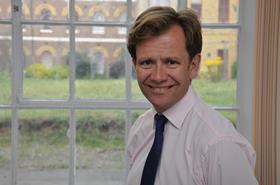 One in four of staff leaving the trust have spent less than two years there - its latest board papers said.
Nine per cent of roles at the trust are unfilled, while the rate of turnover is 17 per cent – compared with 5.3 per cent and 13 per cent respectively at the end of 2015-16.
While acknowledging that workforce shortages are a major challenge for the NHS nationally, Dr Broughton said the problem was "more acute" at Southern than in many other places.
He said this was partly down to the trust having been through "a couple of very difficult years", after a series of high profile care failings – three of which resulted in prosecutions this year.
He added: "The Southern brand is not as strong as we would like it to be and for me there's a really important piece of work centred around restoring confidence and credibility in the organisation. I think that will go a long way to help making the organisation a more attractive place to work."
Asked how he aimed to improve retention rates of new staff, Dr Broughton said a new HR director would start full-time in January, which would "help address some of the HR challenges that we have".
"We need to get the basics right and recruit people effectively, and make sure when they join the organisation everything they need is in place," he said.
"Sometimes those things aren't in place and that can cause resentment."
The trust is also planning to explore joint appointments and setting up a joint staff bank with other providers in the Hampshire and Isle of Wight sustainability and transformation partnership.
Since his arrival, Dr Broughton has also been building an understanding of the trust's future direction, after it emerged it is considering divesting its community services.
Commissioners in Hampshire are currently designing a new model for community services in the county before going out to procurement in 2019.
Asked if he thought the trust should divest its community services, Dr Broughton said: "I think there are inherent benefits of one organisation providing both mental health and community services, not least in terms of how we deliver integrated holistic care to our patients, but that's not the only way to deliver integrated care."
He said the trust was committed to working in partnership with the STP but Southern planned to continue to lead the extended model of primary care that is part of the Better Local Care vanguard.
The model, one of four key areas of the vanguard, involves GPs leading multidisciplinary teams to help patients in local populations.
A Deloitte report published in May recommended that Southern relinquish leadership of the vanguard unless it was given more "legitimacy" by local leaders.
Dr Broughton said: "The vanguard has realised some significant benefits and it is incumbent on us to ensure that learning is not lost.
"We still plan on leading the extended model of primary care across the patch.
"If we are going to ensure we have a sustainable health and social care system, we need to enhance the services that are delivered by our primary care and reduce demand on the acute system."
A previous criticism of the trust was the way it handled serious incidents, patient deaths and subsequent investigations.
Dr Broughton said both frequency of reporting and the quality of investigations has improved in the last 18 months, but more needed to be done.
He said: "Staff do need to be trained in root cause analysis and report writing. It's quite a skill and it's unreasonable to expect colleagues who haven't had that kind of training to carry out these sorts of investigations.
"There's also the need for effective quality control before the reports are finally signed off, so that's where the medical and nursing directors have a key role to play."
Article updated at 4.48pm to clarify statistic on staff departures. Of all staff who leave Southern Health, one in four have worked there less than two years.