Tim Smart stands down as interim chair of Southern Health Foundation Trust
Trust says resignation is for "personal reasons"
Mr Smart had received criticism for the terms of Katrina Percy's resignation as chief executive
Tim Smart has resigned as interim chair of Southern Health Foundation Trust after less than five months in the role.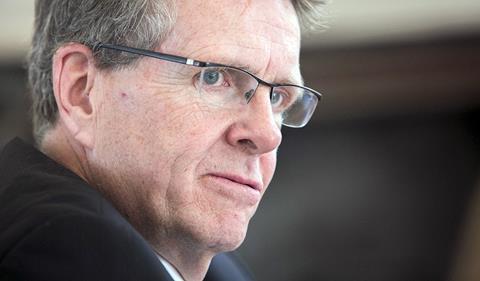 Tim Smart was appointed as chair by NHS Improvement in May
The resignation comes three weeks after Katrina Percy stood down as chief executive of the troubled organisation.
In a statement, the trust board said: "Tim Smart has taken the decision to resign from his position as interim chair, with immediate effect, for personal reasons.
"Since his appointment in May this year Tim has made a considerable contribution to the trust, driving through changes necessary to improve our services. We would like to thank him for his time and dedication.
"We are working with NHS Improvement to appoint a new interim chair as soon as possible. In the meantime, Malcolm Berryman, as deputy chair, will ensure that the duties of the trust board are carried out."
Mr Smart, the former chief executive of King's College Hospital Foundation Trust was appointed by NHS Improvement as interim chair of Southern Health in May.
He replaced Mike Petter, who stood down on the eve of the publication of a damning Care Quality Commission inspection report, which raised serious concerns about the safety of patients.
The trust has been under intense pressure since the publication in December of a report by the audit firm Mazars, which highlighted failures at the trust to investigate and learn from patient deaths.
Mr Smart had received criticism for the terms of Ms Percy's resignation.
Southern Health will continue to employ her in a new role advising GPs in Hampshire, and she will continue to receive her chief executive salary, which is listed in the trust's annual report as between £185,000 and £190,000.
It later emerged that Ms Percy's new role did not previously exist and was not advertised.
NHS England chief executive Simon Stevens recently criticised trust boards giving departing chief executives "big pay offs" and said public confidence had been "undermined" at Southern Health.
During his time as interim chair, Mr Smart led a review which found the trust operated services "across too broad a spectrum of clinical services and too wide a geography".
The review recommended Southern Health should be restructured. It is currently transferring learning disability services in Oxfordshire to Oxford Health Foundation Trust, and specialist learning disability services in Buckinghamshire to Hertfordshire Partnership University Foundation Trust.
Source date
19 September 2016