Junior doctors raised serious safety concerns after having to carry two on-call "bleeps"
BMA says reports are "extremely concerning" and show hospitals are understaffed
Southport and Ormskirk trust says it ended the practice of "double bleep carrying" immediately
Serious safety concerns have been raised by junior doctors who have had to carry two on-call "bleeps" due to staffing shortages at a struggling acute trust.
Trainees at Southport and Ormskirk Hospitals Trust have raised the issue with the trust's guardian of safe working, who has also reported a significant increase in "exception reports" to the board.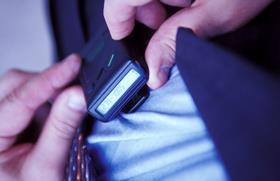 The trust said the practice of carrying "double bleeps" was ended immediately after concerns were raised in the surgery, medicine and paediatric divisions.
A bleep is a pager doctors carry so nursing and support staff can contact them when they are needed on a ward. After 5pm, an on-call bleep will generally be carried by a junior doctor for each ward but they should never have more than one.
According to the latest quarterly report by the trust's workforce guardian, Ruth Chapman, there was a particular concern in paediatrics at Ormskirk District General Hospital, where trainees found on half their shifts one doctor had bleeps for both the children's and neonatal wards, which are three floors apart and "therefore very difficult to manage".
She said unfilled shifts over Christmas also resulted in "double bleep carrying occurring in surgery and medicine on a number of occasions".
Dr Chapman's report added: "Rota gaps and uncovered shifts particularly in surgery and paediatrics mean trainees are double bleep carrying with potential safety implications expressed by all grades of doctor from clinical director to F1."
The trust said there is no evidence of any patient harm occurring because of the bleep issues.
But Dr Chapman said there had was a spike in "exception reports" over December and the start of January, in which trainees flagged potential safety risks. She said it was concerning that the increase had not been mirrored elsewhere in the North West and it demonstrated a "lack of capacity and resilience".
The British Medical Association told HSJ the reports were "extremely concerning".
Southport and Ormskirk is expecting to report a £32m financial deficit for 2017-18 and was recently rated requires improvement for safety by the Care Quality Commission, with concerns raised over staffing shortages.
It also received one of the worst overall satisfaction scores in the region in the 2017 national training survey of junior doctors by the General Medical Council, though its headline score was slightly better than Tameside and Glossop Integrated Care Foundation Trust, Blackpool Teaching Hospitals FT and Pennine Acute Hospitals Trust.
A trust statement said: "We are fortunate in having an enthusiastic guardian of safe working who encourages junior doctors to be proactive in reporting exception episodes. This healthy reporting culture is providing the evidence to address the issues promptly.
"As a result of the February reporting, the practice of carrying double bleeps was ended immediately."
It said a "workforce solution is also under development" involving additional doctors and physician associates.
Peter Campbell, deputy co-chair of the BMA's junior doctors' committee, said: "If staff shortages are so extreme that any doctors are carrying two on-call bleeps then this is extremely concerning.
"Doctors cannot be in two places at once, and when situations such as those highlighted here force them to decide between answering two calls for urgent assistance, it can be the difference between life and death."
Source
Trust board papers; information provided to HSJ
Source date
February and March 2018