Southport and Ormskirk Hospital Trust appoints fourth chief executive in a year
Comes after four senior officers, including chief executive Jonathan Parry, were "excluded from work" last August
Disciplinary hearings will be arranged for three of the officers after an investigation into their conduct
LEADERSHIP: A fourth chief executive has been appointed at a troubled NHS trust in the North West, as three former senior officers face disciplinary hearings.
Iain McInnes has been appointed interim chief executive, on secondment from NHS Improvement where is he a portfolio director. He will be the trust's fourth chief executive in a year.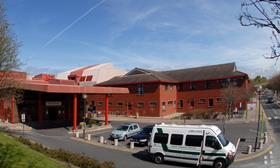 In August 2015, four senior officers at Southport and Ormskirk Hospital Trust, including chief executive Jonathan Parry, were "excluded from work" following whistleblowing complaints.
Following an investigation into "serious conduct issues", the trust said there was "a case to answer for three individuals" and disciplinary hearings will now be arranged.
The other officers excluded last August were the chief operating officer, human resources director and deputy director of performance.
The trust has refused to reveal details about the allegations, or say which of the four senior officers has been cleared of any wrongdoing.
It said in a statement: "In respect of one member of staff who had been excluded [from the disciplinary hearings], the investigation found no case to answer and arrangements will now be made for that individual to return to work.
"No aspect of the whistleblowing complaints or disciplinary investigation related to issues of patient care or safety."
After the exclusions last year, Ann Marr, chief executive of St Helens and Knowsley Teaching Hospital Trust, took over at Southport and Ormskirk on an interim basis. In May, she was succeeded by former East Sussex Hospitals Trust chief executive Kim Hodgson, who was also an interim.
Steve Shanahan has become the trust's substantive finance director, after being seconded to the role last October.
Sheila Lloyd will join as director of nursing, moving from the Black Country Partnership Foundation Trust. She succeeds Simon Featherstone who has moved to Salford Royal FT.
Therese Patten has joined as chief operating officer from Alder Hey Children's Hospital FT.
Source date
10 August 2016