Health Education England's underlying budget will be frozen in nominal terms until 2020-21
It will also lose £1.2bn of funding for student nurses and allied health professionals from 2017, as these payments are stopped
HEE will continue to control placement fees for students training in the NHS 
Health Education England's chief executive has warned that a freeze in its underlying budget will have knock-on "consequences" for the NHS, including limiting funding to trusts for training placements.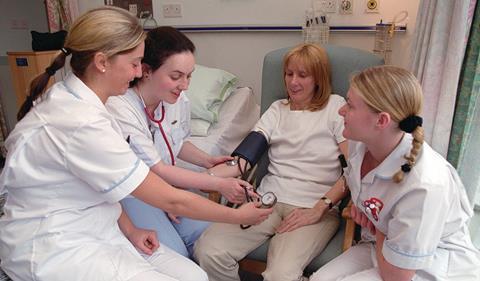 APY0DD Student trainee nurses at Leeds General Infirmary learning how to take blood pressure.
HEE's budget will over time lose the £1.2bn which currently pays for free university education for nurses and other allied health professionals. This will in future be paid for by individuals, under plans announced in today's spending review.
However, aside from this change, HEE is expecting the remainder of its budget to be fixed in cash terms – not be uplifted for inflation – from now until 2020-21.
Ian Cumming said this could mean clinical placement fees for medical students and other NHS staff such as nurses, which it funds, could also be frozen. This would mean a cut in real terms.
Speaking in the Commons today the chancellor said student nurses and other allied health professional trainees would have to fund their own education via student loans from 2017.
George Osborne said of the current system, which caps total places: "Over half of all applicants are turned away and it leaves hospitals relying on agencies and overseas staff, so we will replace direct funding with loans for new students so we can abolish this self-defeating cap and create up to 10,000 new training places in this Parliament."
In an interview shortly after the spending review statement, Mr Cumming told HSJ there would be consequences of its budget being frozen in cash terms.
He said: "We will be getting flat cash increases, meaning the £3.5bn we get in 2015-16 we will [still] get in 2019-20.
"That is a much better position than it could have been considering some of the conversations that were happening early on around 25 per cent reductions across all budgets.
"That allows us to continue to invest in postgraduate medical education and local workforce transformation but it does mean we are going to have to make year on year savings because we aren't going to have inflation funded. We are going to have to absorb that within the organisation as we move through each of those years."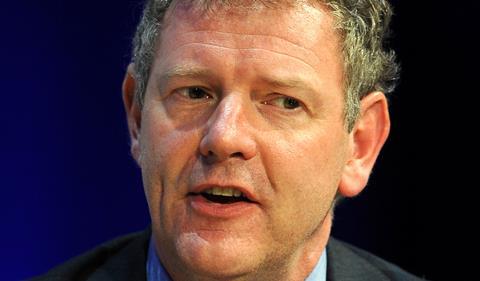 He said it was unlikely the financial savings would lead to radical cuts but added: "We fund an awful lot of clinical placements, for example £35,000 for medical students. If we recognise that we have been funded at flat cash then we are going to have to fund clinical placements at flat cash. That may be somewhere that we have to go but this is a level of detail we haven't looked at yet.
"This isn't a perfect settlement but in the current economic climate a flat cash settlement is not a bad settlement. But there will be consequences and part of those will be around our efficiency and part of it will be whether we have to fund things at flat cash."
He said the budget changes would be phased in and won't take effect until the September 2017 intake, with the full impact expected to take five or six years to work through the system.
Mr Cumming said even after the changes, which will require secondary legislation, HEE will remain in control of £300m funding for clinical placements for staff. This money is paid to NHS trusts to cover the costs of students training alongside NHS staff.
This will give HEE a degree of control over which placements it will fund in the NHS to help influence the numbers and distribution of students across the system.
Mr Cumming said: "We will be using our clinical placement fees, not to manage the market, but to ensure the NHS gets [the workforce] it needs. If we see a growth in one city attracting students away from other areas where we need to train nurses we will have to use our placement fees as a lever."
Dame Jessica Corner, chair of the Council of Deans of Health, told HSJ: "I know this has been a hard decision for the government to make. There is a workforce crisis in health and social care and the universities are not training enough nurses or AHPs. This does provide some way of trying to find a way out of that and it does offer better financial support for students while they are studying."
She said details about potential support for students who may be put off from taking a student loan were yet to be announced but were under discussion.
Spending review reveals '21 per cent cut' to non-NHS England health budgets
1

2

3

4

Currently reading

Exclusive: HEE budget freeze will have 'consequences' for NHS

5

6

7

8

9