NHS England budget to rise to £120bn by 2020-21
George Osborne announces 25 per cent cut to other areas of DH budget
George Osborne has confirmed NHS England's budget will rise to £120bn by 2020-21, but said other Department of Health spending will be cut by 25 per cent.
It is not yet clear where these cuts will fall, but they could affect the Care Quality Commission, Public Health England and Health Education England.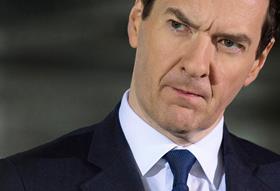 In revealing the comprehensive spending review in the House of Commons this afternoon, the chancellor said health and social care formed one of four priority areas for the government.
He also announced:
Local authorities will be able to levy a new "social care precept" of 2 per cent on their council tax bills. This could bring in up to £2bn nationally.
Bursaries for nursing education will be scrapped and funded via student loans instead. The cap on training places will also be removed, allowing an extra 10,000 places.
£600m of additional funding for mental health, to improve access to "talking therapies", perinatal support and crisis care by 2020.
The better care fund will be increased by £1.5bn by 2019-20, to support integration between acute and social care services.
Social care spending to be increased in real terms by the end of the parliament.
As revealed yesterday, NHS England will receive £3.8bn of real terms growth next year, which marks a significant frontloading of the £8.4bn promised over the coming half decade.
Real terms investment will then drop to just £500m in the third year, before rising again to £1.7bn in in 2020-21.
NHS England's budget is currently £101bn, which will rise to £120bn through inflation plus the £8.4bn in additional spending.
However, the decision to draw the NHS "ringfence" around NHS England's budget of around £101bn – rather than around the overall DH budget of £116bn – means other aspects of health spending will not be similarly protected.
More to follow on hsj.co.uk