Advertorial: Olympus's enhanced range of energy products, which include the THUNDERBEAT and SONICBEAT devices, have earned their place in the operating theatre
Whether NHS or private practice, controlling costs is high on the agenda. Every device entering a hospital needs to justify the expenditure and have proven efficiency gains. With recent industry figures showing NHS finance directors think the £20bn 'efficiency savings' target is unlikely to be achieved by 2015, pressure to reduce spending has never been so intense.
Enhanced efficiency
Spending on single-use devices in procedures such as advanced laparoscopy is therefore coming under increased scrutiny. Fortunately Olympus, a global business working with countless hospitals and top clinicians, recognises the contribution that technology and innovation can play in the delivery of first-rate results, while also delivering cost-effectiveness through enhanced efficiency.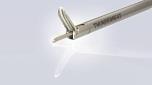 The award-winning THUNDERBEAT is the world's only surgical energy device which integrates ultrasonic and bipolar energy, delivering both energy forms simultaneously through a single instrument. This innovation allows a fastest in-class cutting speed, yet at the same time provides high levels of haemostasis, including the ability to seal vessels of up to 7mm diameter.
Clinical feedback is that the unique THUNDERBEAT is now increasingly replacing other energy devices thanks to its ability to outperform other manufacturers' systems. Furthermore, it can lower instrument usage and lessen instrument exchanges, consequently minimising interruptions to operation flow and saving time. A comparative study of laparoscopic energy devices concludes that the THUNDERBEAT "should decrease time and increase versatility during surgical procedures".
Mark Coleman, consultant surgeon at Plymouth Hospitals NHS Trust, concurs: "The THUNDERBEAT provides faster, safer surgery with the ability to divide larger blood vessels. It is a highly effective, versatile device that has given me a distinct benefit in the operating theatre."
Recently launched in the UK, the SONICBEAT is a more conventional device using ultrasonic energy alone, although its cutting speed and haemostatic qualities are enhanced by a 'wiper-jaw' mechanism. This enables faster and easier dissection, plus more homogenous grasping force when compared to other ultrasonic energy devices.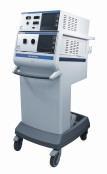 The SONICBEAT is designed as a more economical solution for intermediate laparoscopic procedures, where the requirement to seal large blood vessels is not planned, allowing surgeons to choose the appropriate instrument for each case. As both the SONICBEAT and THUNDERBEAT are driven by the same Olympus Surgical Tissue Management System generator, operating department efficiency can be further enhanced through standardisation on a single platform.
Simona Esposito, head of surgical energy at Olympus, concludes: "There is much to consider before investing in new technology – especially in the current healthcare climate. Devices have to prove their worth and we are committed to bringing the best and most efficient products to the UK market. Our devices facilitate faster surgeries that enable more procedures to happen, and suit minimally invasive techniques, which enable swifter patient recoveries and may reduce hospital stays."
To find out more about Olympus' enhanced range of energy products, including the THUNDERBEAT and SONICBEAT devices, please visit: www.olympus.co.uk/thunderbeat