NHS England had concerns over clinical harm assessment process used by St George's University Hospitals FT
Trust identifies 10 people who came to severe harm after investigating patients whose treatment was not properly recorded
News follows other trusts where patients have come to severe harm after providers failed to keep track of records
A teaching hospital where 10 patients suffered severe harm after the trust failed to keep track of their appointments has been criticised by NHS England.
A document released under the Freedom of Information Act reveals the national commissioning body had concerns about the process St George's University Hospitals Foundation Trust is using to assess whether patients came to harm as a result of the trust losing track of their records.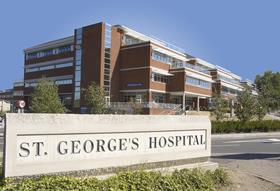 Minutes of meetings held by NHS England's London specialised commissioning board last year said: "St George's had not met the cancer 62 day standard in September and concern had been raised regarding the effectiveness of the clinical harm reviews. Medical directors are working closely with the trust to make improvements."
The trust has a clinical harm review panel led by medical director Andy Rhodes that assesses whether patients have come to harm because of delayed treatment relating to the data problems.
NHS England London associate medical director Nicola Payne chairs the panel.
The south London trust is undertaking a large validation exercise, checking more than 2 million patient records after realising the data was not being recorded properly.
It has not reported against the national referral to treatment target since May 2016.
The trust said last year there had been "some delay in completing the clinical harm reviews on cancer patients".
This week, it said it had now "ensured additional resources are available to focus on this issue and the reviews are now being carried out on time".
A spokesman added: "We are confident we have the right people and processes in place to ensure any cases of clinical harm are identified and investigated with any learnings shared across the organisation.
"We will continue to adapt our processes in response to feedback, and in line with examples of best practice from elsewhere – as we have done already."
As of 19 January, there were 14 cases of harm identified by the trust's clinical harm panel, 10 classed as severe and four as moderate.
Severe harm is defined by the National Reporting and Learning System as "any patient safety incident that appears to have resulted in permanent harm".
The trust said most of these incidents had been identified by the panel but were not directly caused by a delay to treatment. It said one case of severe and one case of moderate harm were directly caused by the delays.
When the issue first arose, non-executive director at the trust Sir Norman Williams, former president of the Royal College of Surgeons, asked the then chief executive whether the trust would face legal bills as a result. The trust has refused to answer questions on this subject.
Other trusts have also caused harm to patients after failing to keep track of their records.
Portsmouth Hospital Trust last year admitted cancer patients had died because of delayed treatment.
The Royal Orthopaedic Hospital Trust in the west Midlands said it may have caused "severe" harm to four children as a result of delayed spinal surgery.
Source
London specialised commissioning board minutes; trust statement