First of its kind heart failure unit opened in 2015
Waits of up to five days for admission to unit due to limited capacity
Trust spokesman says "we need to ensure the service is sustainable"
"Significant" concerns have been raised over the sustainability of a pioneering heart failure unit at a major London trust, which will now review its use of resources.
The 11-bed inpatient unit at St George's University Hospitals Foundation Trust opened in 2015 and was expanded in March 2016.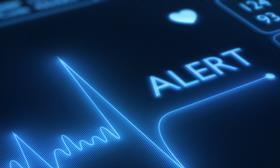 The trust said the unit, which has dedicated high dependency beds, was the first in Europe exclusively for heart failure patients.
However, "ongoing sustainability is a significant concern for the service", papers from Lambeth Clinical Commissioning Group's January board meeting said.
An internal business case about the unit is soon to be reviewed by a group of senior trust staff, a trust spokeswoman said.
The trust said this is standard procedure to ensure it is making optimal use of its resources and that patients are receiving the best possible care.
"We have no plans to reduce the number of beds," the spokeswoman said. "However, we do need to ensure that the service is sustainable."
The unit, which is funded solely through its activity by commissioners, was set up to tackle the high rate of readmission among heart failure patients, particularly people with co-morbidities.
It provides a heart failure diagnostic clinic for local and tertiary referrals and acts as a triage point to direct patients to the most appropriate treatments.
Since it opened, the readmission rate for heart patients at St George's has fallen from 23 per cent in 2015-16 to 13 per cent in 2016-17. Inpatient mortality for heart failure now stands at 5.6 per cent, against the national level of 9.6 per cent.
The success of the unit has led to "increased throughput and consequently increased income for the service", the board papers added.
However, capacity is an issue as there are only 11 beds. This has led to average waits of four to five days for admission to the unit.
Concerns about staffing levels were also raised at the CCG board meeting, following "the recent decision to apply a 10 per cent headcount reduction as part of the wider programme of efficiency".
A board paper seen by HSJ last October said the trust believed it could save £7.6m by reducing its pay bill, and described the move as a 10 per cent "headcount reduction". However, the trust then told HSJ this was a mistake and the cut would be made to the pay bill, not staff numbers. The savings were expected to be made by keeping posts vacant when staff leave, but essential clinical posts would still to be recruited to.
Two healthcare assistants who left the heart failure unit last August have not been replaced.
A trust spokesman said "Last year, we committed to reducing pay costs across the organisation by 10 per cent. Since then, we have successfully reduced use of agency staff, and have also introduced tighter controls on recruitment."
The trust would not say how many healthcare assistants still work at the unit, but said the current number and skill mix of staff on the unit "enabled us to continue to provide a safe and effective service for patients" and staffing levels on the unit were in line with national guidelines.