St George's University Hospitals FT to cut pay costs by 10 per cent by March
Vacancies will be left unfilled but essential posts will continue to be recruited to
The trust had an overall vacancy rate of 16 per cent in August
A south London teaching hospital plans to cut its pay bill by 10 per cent over the next six months despite already having a significant number of vacancies.
St George's University Hospitals Foundation Trust has said it needs to reduce spending on staff by March, but it will continue recruiting junior doctors and clinical staff at band five and lower.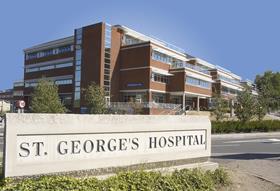 The changes are likely to be made by keeping posts vacant when staff leave. Essential clinical posts will continue to be recruited to.
Last month, St George's was identified by NHS Improvement as being at risk of being placed in "financial special measures" because it was more than £2m behind its financial plan after the first three months of 2016-17.
A board paper seen by HSJ said the trust believed the action would save £7.6m and was described as a 10 per cent "headcount reduction". However, the trust told HSJ this was a mistake and the cut would be made to the overall paybill not staff numbers.
The trust's annual report said it had a payroll cost in 2015-16 of more than £434m, and in recent months there has been a £15m increase due to inflation pay uplifts and a £4m increase due to recruiting more nurses to meet safe staffing levels.
The trust had a total vacancy rate of 16.5 per cent in August with one in five nursing and midwifery posts vacant.
It had an 8 per cent medical vacancy rate and 16 per cent vacancy rate for administrative and clerical staff.
In its latest workforce report the trust identified key risks around staffing such as "failure to recruit and retain sufficient staff in relation to annual turnover rates and to safely support future increases in capacity".
It also warned of "possible reductions in the overall number of junior doctors available with a possible impact on particular speciality areas".
However, the trust did say its vacancy rate has decreased by 0.6 per cent and turnover has reduced by 0.3 per cent since July – the first decreases in both measures since March.
The trust employs 8,620 full-time equivalent staff.
In a statement the trust said: "As part of our financial recovery plan, we are reducing pay costs by approximately 10 per cent between now and the end of March 2017.
"We plan to achieve this by not recruiting to certain posts as and when they become vacant. However, we will ensure staff can continue to deliver services safely and effectively.
"We are protecting clinical services by continuing to recruit to all clinical band five posts and below, plus all junior doctor posts.
"Our medical director and chief nurse are reviewing all posts which we plan to leave vacant. Any posts judged essential to delivering services safely will continue to be recruited to."
HSJ understands staff were briefed about the plans last month.
Source
Information provided to HSJ