Patients suffer clinical harm while waiting for elective appointments at St George's Hospitals Foundation Trust
Data management failures meant trust has been reviewing two million patient records
Fifteen patients have come to severe harm after a London trust with long standing record keeping problems lost track of their appointments.
St George's Hospitals Foundation Trust has been reviewing millions of patient files because more than two years ago it discovered it could not tell whether patients in elective care pathways had completed their treatment or were overdue for follow up appointments.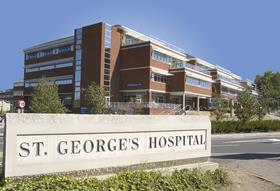 A report to the trust's board in July said a clinical harm review team had reviewed 646 cases. It found 15 have suffered severe harm and four suffered moderate harm.
"Severe harm" is defined by the NHS National Reporting and Learning Service as an incident that causes "permanent or long term harm".
A trust spokesman said: "We have contacted the patients and relatives in question and offered our sincere apologies for providing a level of care that is below the high standards we expect."
St George's has had to analyse two million patient records so far to determine which of the patients needed more treatment.
In December 2017 the trust found more patients that have been "lost to follow up" and were at high risk of clinical harm.
The trust sent letters to 18,922 patients, to which 4,830 responded. The trust has treated or discharged them from its care.
This leaves it with 13,416 patients who did not respond to the mailshot. Clinical commissioning groups in south west London have been asked to review patients from their areas, and agreed a process in which their GP practices will "effectively double check" if the trust needs to give more treatment to these patients.
Problems with the trust's record keeping for elective care first emerged in 2016. A report to the board in July that year said an external review had found St George's recording and tracking of patients through treatment pathways was "not fit for purpose".
The trust subsequently had to stop reporting its waiting time data for elective care to NHS England. It hopes it will have sorted out its data management problems sufficiently to be able to start reporting again in late 2018 or early 2019.
A St George's spokesman said: "Our clinical harm review process is a key part of our elective care recovery programme, which was set up in 2016 to tackle our data quality challenges."
"We want to provide the best care possible for our patients, and where incidents of clinical harm occur, they are investigated to ensure learning is shared across the organisation," he added.