WORKFORCE: Infighting between senior medics at two departments of a major teaching hospital could have put patients at risk, according to a report obtained by HSJ.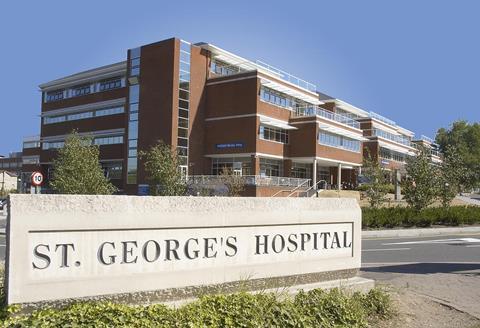 St George's Hospital, London
Disagreements between consultants within the vascular and interventional radiology departments at St George's University Hospitals Foundation Trust created such a "hostile" atmosphere that all trainees were withdrawn from the trust.
A report published by the Royal College of Surgeons into the conflict at the London trust said poor relationships between the departments could have harmed patients if one team had refused to ask another for help.
The report said: "This breakdown in professional relationships caused the review team to have very serious concerns about patient safety…
"Some patients had been exposed to increased risk as a result of a lack of professional communication and appropriate collaboration between the departments."
The investigators were not aware of any evidence to suggest any patients had come to harm.
The document, given to the trust in March, also said: "There was evidence of individuals' clinical practice being influenced by fear of being criticised unduly. It is very concerning that clinical decision making might be detrimentally affected by the level of scrutiny some consultants had been placed under without due cause."
The roots of the problem are thought to lie in a turf war over who performed certain procedures.
"A number of interviewees commented there had been a degree of 'tension' between the vascular surgery and interventional radiology departments for several years," the report said.
"Some stated this was at least in part due to the consultant vascular surgeons developing a successful endovascular service for complex aneurysmal disease with less and less involvement from interventional radiology.
"However, the review team heard from some interviewees that it wasn't until the vascular surgery department began undertaking lower limb endovascular interventions in 2015 that professional relationships had really broken down."
This led to a timetabling issue, with some witnesses telling investigators that radiographic support was "withdrawn" for some procedures in October 2015.
The investigators said other trusts had worked through how endovascular procedures should be delivered and it was "clear that the behaviours displayed by some members of both departments at St George's have been such that it has caused disruption totally disproportionate to the issues at hand.
"This has been hugely disruptive, to the point of putting patients, the viability of the service and the reputation of the trust at risk."
Interventional radiology and vascular work at the trust is now being "supported" by teams from King's College Hospital FT and Guy's and St Thomas' FT respectively.
The breakdown in relations saw staff in each department make formal complaints about the other, with one person being investigated five times over the same incident.
One medic complained that while they were discussing an amputation with a patient a colleague swearing in jest in a separate conversation nearby.
The RCS team spoke to witnesses who claimed a complaint that prompted an inspection of radiation safety in vascular surgery operating theatres by an external body was prompted by spite.
The report's conclusion said if the two teams were to work together, staff would have to "prioritise the delivery of high quality care over other considerations. The unit may be better off without individuals who demonstrate an inability to behave in this way."
The investigators said although clinical and non-clinical management could have intervened, "the situation may have deteriorated to its current position irrespective of what the trust management had done".
The authors concluded that although "there have been significant recent changes in the training and practice of vascular surgeons and interventional radiologists" this was not the cause of the problems at the trust "but rather local issues with individuals".
Professor Matt Thompson, a consultant vascular surgeon at the trust, was suspended in June.
The trust's media team would not confirm last week whether he was still suspended, whether disciplinary action had been taken, or if any other staff had been suspended as a result of the report or other investigations.
Source
Information obtained by HSJ
Source date
September 2016