One of England's most senior clinical leaders has left the NHS after a conflict between his department and another one in his trust
Professor Matt Thompson, a vascular surgeon, has left St George's University Hospitals Foundation Trust after being suspended last June.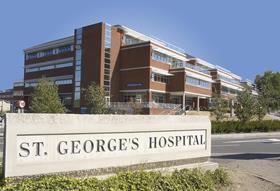 Professor Thompson was the clinical director for three London-wide reconfigurations of cardiovascular disease, major trauma and emergency services. He also chaired the clinical reference group for vascular services.
The suspension followed disputes between the St George's vascular and interventional radiology departments.
Disagreements between consultants created a "hostile" atmosphere and Health Education England withdrew trainees from the trust.
A report by the Royal College of Surgeons into the conflict said poor relationships between the departments risked harm to patients if one team had refused to ask the other for help.
The report said: "This breakdown in professional relationships caused the review team to have very serious concerns about patient safety…
"Some patients had been exposed to increased risk as a result of a lack of professional communication and appropriate collaboration between the departments."
The roots of the problem are thought to lie in a turf war over who performed certain procedures.
Professor Thompson is now chief medical officer at American medical devices company Endologix.
He told HSJ: "From a personal perspective I decided to leave St George's after the situation last summer. This time brought a number of interesting new opportunities both in the UK and abroad. After some consideration, I decided to move to the USA and accepted the position of chief medical officer at Endologix.
"I felt that at St George's I had accomplished much of what I aspired to in vascular surgery and to the surgical community in general. With Endologix I have opportunity to positively impact the treatment of patients with aortic disease on a global scale and influence many more patients that I could have reached as a single surgeon.
"In terms of my leaving St George's, I wish the very best to all of my colleagues, the patients and the staff."
A spokesman for the trust said: "We are unable to comment on matters pertaining to individual members of staff, although we can confirm that Professor Thompson is no longer working at the trust.
"We continue to provide a full range of elective vascular services at the trust, and a comprehensive 24/7 emergency service. We have also recently appointed two new consultants to the vascular team.
"The vascular service continues to receive some support from Guy's and St Thomas', and we are pleased with the significant progress we have made since June last year."
Source
Information obtained by HSJ