A patient suffered a stroke that might have been prevented and another received late treatment for cancer after record keeping failures at a teaching hospital.
A Freedom of Information Act request by HSJ reveals details of two cases where patients came to "severe harm" because of the problems keeping track of patients at St George's University Hospitals Foundation Trust.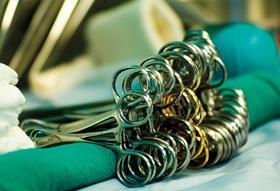 The trust is checking hundreds of thousands of records to see if patients did not receive treatment because of poor data systems.
Both serious incident reports obtained by HSJ have been heavily redacted by the trust but the first shows a patient with abnormal blood test results was wrongly marked as a "did not attend" at a subsequent appointment and was not followed up.
This was because the relevant department in haematology was busy and the patient was not entered on the booking system, and they were not flagged as having a blood disorder.
The patient later had a stroke and the report says "the delay in diagnosing the haematological disorder may have contributed to them having a stroke".
The other report shows a patient who missed out on urgent cancer surgery because their appointment was not booked after a referral.
The department uses a paper based booking system and the findings of the report say: "The system relied on the [redacted] being given a booking form, and then taking this by hand to the [redacted]. "This event happened 18 months ago, and the panel were unable to establish exactly what went wrong, however the form did not reach the [redacted]. Due to the fragility of the system, this could have happened at a number of stages."
The report adds: "A background of increasing demand on the [redacted] and [redacted] has been noted as a result of a successful and popular [redacted] service. The introduction of the [redacted] two week rule referral has impacted on the service. In addition [redacted] set up [redacted] in [redacted], which resulted in a threefold increase in [redacted] activity. This added additional strain to the system which included the impact on minor surgery within [redacted]."
Overall, 2 million electronic records of patient pathways were found to be incomplete at St George's. Of these, 124,000 were subsequently classified as "potentially high risk".
The trust does not yet know how many additional outpatient appointments will need to be scheduled for patients who need them but estimated it could be as high as 10,000.
St George's previously confirmed after checks of 47 patients whose records went missing and subsequently died, 13 had been due an "urgent" referral.
In March, the trust said no patient had died because of the delays and it was not a contributory factor in any deaths.
St George's has not confirmed whether any other serious incidents had been declared due to the data problems since then.
The trust's investigation is being overseen by an external clinical review group chaired by NHS England associate medical director Nicola Payne.
The trust said: "We take issues of patient safety extremely seriously, and fully investigate cases where there is evidence that care may have been compromised. In both cases, we informed the patients in question, told them we were investigating, and stressed our determination to learn lessons wherever errors have been made.
"This is standard practice as part of our serious incidents process, and key to maintaining an open and transparent culture of incident reporting at St George's.
"Our elective care recovery programme is designed to improve how we record where patients are on their elective care pathway, and reduce their waiting times."
Downloads
PDF, Size 0.15 mb

PDF, Size 0.22 mb
Source
Information obtained by HSJ