A major teaching hospital trust in special measures has appointed its fourth chief executive in less than a year.
St George's University Hospitals Foundation Trust in south London has named Jacqueline Totterdell as its new chief executive.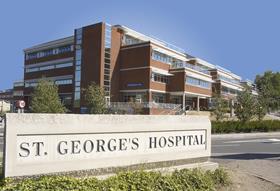 Ms Totterdell is currently chief operating officer at Barts Health Trust, a role she has held since 2015.
Before taking on her role at Barts, Jacqueline was chief executive of West Middlesex University Trust, where she helped steer its merger with Chelsea and Westminster Hospital FT.
She was previously chief executive of Southend University Hospital Foundation Trust, where she spent five years. She has also been chief operating officer at The Hillingdon Hospital Trust.
She will replace interim chief executive Simon Mackenzie. Her start date has not yet been agreed.
The trust has been looking to fill several senior leadership positions, after a Care Quality Commission report last year highlighted the need for permanency in its leadership team.
In May 2016, the previous substantive chief executive, Miles Scott, stepped down following intense regulatory scrutiny of the trust's sudden financial collapse in 2015.
Acting chief Paula Vasco-Knight, who was interim chief operating officer at the time, was suspended two weeks later after serious financial allegations were made about her. She was given a 16 month suspended jail sentence last week after pleading guilty to fraud.
In recent weeks, the trust has appointed a new chair and an improvement director. It is still looking to fill key executive posts permanently, HSJ understands, including a finance director.
St George's was put into special measures in November after being rated inadequate by the CQC.
The organisation recently admitted patients had come to "severe harm" after their data was not completed properly by the trust and they failed to receive timely treatment. An investigation cross-checking more than 2 million incomplete records is ongoing.
The trust is predicting a deficit for this financial year of £71m, a deterioration against a plan of £54m.
Ms Totterdell said: "I am absolutely thrilled to be joining the team at St George's. This is an exciting opportunity and, as chief executive, I intend to support, champion and empower the trust's fantastic staff to provide the best care possible for patients and their families. I can't wait to start, and look forward to working with the trust board and staff to build on the improvement journey already started."
Gillian Norton, who starts as the trust's chair in April, and has been a non-executive director since June, said: "I am confident that Jacqueline will be a first-rate addition to the team here at St George's. Her experience and proven track record as an NHS leader will be crucial as we continue our improvement journey. Jacqueline has made clear how highly she values staff and the importance of listening to their views, and this was an important factor in her appointment."