Two million "incomplete patient records" need to be cross-checked
129,000 people have been identified as having incomplete patient records but more are to follow
Validation process will be finished in August 2018 at the earliest
Two million patient records have been cross-checked by a major London trust following concerns that some patients may have had their care pathways inadvertently terminated.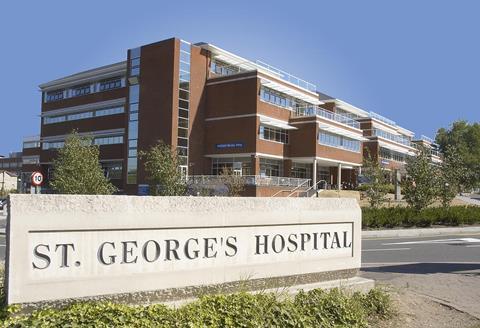 St George's Hospital, London
St George's University Hospitals Foundation Trust in south west London is currently investigating and assessing whether patients have come to harm as a result of a widespread failure to properly enter patient data on the trust's electronic medical records system.
Having reviewed the two million records, the trust has identified 129,000 "high risk" patients who are being prioritised for validation.
However the trust has confirmed that it will need to validate more records as the investigation proceeds because it is likely that more 'high risk' cases will come to light as the investigation proceeds. The validation process is not expected to be complete until the summer of 2018.
The concern is that two million individual patient records, each of which represent a different part of a patient's treatment, rather than a real patient, may not have been recorded on the patient administration system (PAS) properly.
This means that whilst a patient may have been operated on, referred for further treatment, then discharged, for example, the pathway may not neccesarrily have been recorded in the electronic patient record.
The trust is confident that the number of patients actually affected is far fewer than two million. However to ensure this is the case, it is checking and validating the electronic patient administration system against other records, whether that means theatre records, other electronic systems or paper records.
Problems arose after a new patient administration system was introduced in 2014 and staff were not given adequate training about how to use it. As a result patient pathways were not properly logged by administrative staff.
The issue was compounded when consultants started recording referrals in a "non-standard" way, entering patient details on a spreadsheet rather than a patient administration form.
"It was a well intentioned workaround [short-cut] with unintended consequences" a spokesman said.
So far there has been no evidence of any patient coming to serious harm as a consequence of the loss of two million records, a spokesman for St George's said.
But there have been long waiting times: some of the "incomplete patient pathways" date back as far as 2014 when the patient administration system was introduced.
An external company with a team of 40-50 people, has been appointed to help validate and correct patient records.
Patients deemed as "high risk of possible harm" are flagged up and referred to a dedicated in-house team of clinicians for a formal review.
Those patients found to be at high risk of clinical harm are offered expedited treatment.
All high risk patients are expected to have had their records cross-checked by August.
In the meantime the trust is retraining staff, including consultants, about how to input data into the trust's internal systems.
Resolving the situation is expected to cost St George's several million pounds.
A spokesman for the trust said: "We have been clear from the outset that our data problems are systemic, and that there will be no quick fix.
"The approximate figure of two million refers to the number of patient records which are incomplete or haven't been 'closed' on our administrative systems. We expect that the majority of these patients will have been seen and treated.
The two million figure refers to the number of patient records held on the trust's electronic patient administrative system which are incomplete or haven't been "closed".
"The elective care (data quality) recovery programme is a key priority for St George's, and we are determined to ensure that the excellent clinical care we provide is underpinned by sound operational processes."