St Helens and Knowsley Teaching Hospitals Trust hopes to be running five more surgeries within two years
Outstanding-rated trust has run one practice since 2017
Hoped that new care model can help sustain primary care and lead to more integrated services
An acute trust in the north west is in talks over running several GP practices on its patch, HSJ has learned.
St Helens and Knowsley Teaching Hospitals Trust hopes to be running five more surgeries within two years, having already taken over one practice.
The model involves GPs voluntarily giving up their NHS England contracts and becoming substantive employees of the trust, along with other practice staff.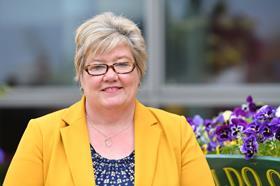 Ann Marr, CEO of St Helens and Knowsley Teaching Hospitals Trust
Chief executive Ann Marr told HSJ: "We're now talking to other practices because running one isolated practice isn't enough for the model to work effectively.
"I would hope probably within the next two years we'll have six practices [all in St Helens], who will all have voluntarily joined us because they see benefits in the model.
"By joining the trust, they won't have all the back office responsibilities, so things like HR, infection control, information governance, payroll and so on, are all done for them and it's preferable for GPs who don't want the responsibility and distraction of running a practice."
The outstanding-rated trust, which for the last two years has ranked as the best acute trust in England against the headline staff survey indicator (staff recommendation of the trust as a place to work or receive treatment), has been receiving advice and support on the project from Royal Wolverhampton Hospitals Trust, which now runs multiple GP practices in its area.
In September 2017, SHKTH took over the running of Marshalls Cross Medical Centre, which is based on the St Helens Hospital site, after the GP partners withdrew from the practice. The trust already owned the building, and the clinical commissioning group asked if it would take over its management.
Ms Marr added: "It was a very challenging project to take on and it's been a steep learning curve, but patient feedback is that we're on the right track.
"Our aim is to be quite innovative and offer a new style of GP practice where patients can access a whole variety of services; for example I'm really keen to get good quality mental health services into our practices, and a much bigger pharmacy presence.
"So we are now at the point where we're attracting GPs who want to work with us and have a different kind of employment model… [and] we're not so reliant on locums.
"The other big enticement is the opportunity to do some of their sessions in different clinical departments in the hospital, like dermatology, gynaecology, paediatrics or whatever their interests are.
"The aim is to help keep GP practices sustainable, so the population can access the right care in the right place."
Ms Marr says that running more practices could also help the trust further constrain hospital admissions, as has happened since it took over the community services contract for St Helens from Bridgewater Community Healthcare Foundation Trust in 2017.
Trust data suggests there has been a 1 per cent rise in emergency admissions in the borough, compared to much higher rises in other parts of the patch.
Update: This article was updated at 20:30 on 28 May to clarify the data on emergency admissions in the borough