Stockport Foundation Trust says it could cut up to 350 whole time equivalent posts
HSJ understands the reduction is an estimate based on average salaries and seen as a maximum number
KPMG have been working with the trust on a national programme that is expected to be expanded across the sector
WORKFORCE: A hospital trust in the first wave of a national turnaround programme has announced plans that could reduce its staffing establishment by 7 per cent.
Stockport Foundation Trust, which is one of 16 organisations in the first wave of NHS Improvement's financial turnaround scheme, says it may cut up to 350 whole time equivalent posts.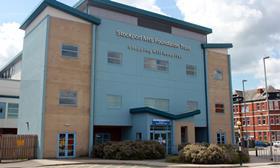 Retiring staff and not filling current vacancies should account for a proportion of the reduction, but a voluntary redundancy programme will also be launched. The trust has not ruled out cuts to clinical posts.
A senior source at the trust told HSJ the reductions could include clinical and non-clinical posts, but any proposed cuts to clinical posts would have to go through a risk assessment panel.
They said around 30 vacant posts could count towards the total. The 350 figure is an estimate based on average salaries, and is seen as a maximum that could be reduced if other savings schemes are successful.
The FT has a turnover of £270m and ended 2015-16 with a deficit of £12.9m. It employs nearly 5,000 staff.
Consultants from KPMG have been working with the trust in recent weeks as part of a national programme, which is expected to be expanded across the provider sector.
The source added: "There has not been any undue pressure from NHS Improvement or anywhere else to do this.
"The trust has worked closely with KPMG to come up with these plans, and where other trusts might have taken these measures in a more piecemeal way, our staff have been very clear that they want to be given the full picture."
The news comes after NHS Improvement suggested some trusts had potentially increased their workforce spending unnecessarily, however Stockport was not on a list of 63 organisations published last week.
The trust is to close a 22-bed surgical ward on Friday, with patients relocated within Stepping Hill Hospital, and another eight beds have been closed temporarily over the summer.
The trust said in a statement: "In common with many other NHS trusts, we are facing severe financial challenges.
"These difficult decisions have not been taken lightly, but it is essential that we proactively manage our financial situation and ensure long term sustainability. We want to continue improving and transforming our high quality patient services, but we can only do this by taking action now.
"We are not sacking staff. From August we will be inviting staff to take voluntary redundancies in order to help us meet our financial challenges. The number is 350 whole time equivalents and will include current vacant posts and people retiring.
"In the case of each voluntary redundancy, a rigorous assessment will be made to ensure that the loss of the post in question would not have a negative impact on patient safety, and would still allow us to provide good quality services."
Source
Information provided to HSJ and trust statement