Inspectors cite concerns about safety and leadership at major A&E department
CQC said 'significant issues persist' at Stockport A&E
Regional NHS bosses accept findings and pledge improvement
One of Greater Manchester's four 'specialist' emergency hospitals has had its urgent and emergency care services rated inadequate by the Care Quality Commission.
Stockport Foundation Trust was rated requires improvement, but inspectors raised serious concerns about Stepping Hill Hospital's accident and emergency department.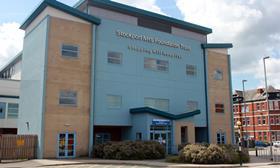 Inspectors rated the A&E inadequate both in safety and leadership. The department was rated requires improvement on how effective, caring and responsive it was.
Overall, the trust was rated requires improvement on how safe, effective, well led and responsive it was and good for how caring its staff were.
The inadequate A&E rating follows a challenging period for the department. It has consistently struggled against the four hour target and managers were summoned to a summit for the 30 worst performing A&Es last March.
Inspectors raised concerns about low nurse staffing levels and shift fill rates, poor compliance with the early warning score system and infection control.
The CQC report, published on Tuesday, added: "Although we noted an improvement in the senior nurse leadership in the service and found a more open and positive culture, there were still significant issues which persisted from the last inspection.
"There was poor infection control compliance including patients not being isolated appropriately, visibly soiled equipment and less than 60 per cent compliance with key audits. Duty of candour was delayed in some cases."
Stepping Hill was named as Greater Manchester's fourth "specialist" emergency hospital in July 2015, joining Manchester Royal Infirmary, Salford Royal and the Royal Oldham, as part of the Healthier Together reconfiguration plans.
The plans said the emergency and high risk general surgery across the patch would be concentrated on four sites. The decision means Wythenshawe Hospital in south Manchester, Royal Albert Edward Infirmary in Wigan and Royal Bolton Hospital will lose this service.
Trust chief Ann Barnes, who announced in March she would step down at the end of 2017, said "significant work" was on going to address the problems. She added: "We are upset and disappointed that we have not been getting it right for every patient, and we apologise to the individual patients and their families where the reports show we were failing to provide the best care.
"We have committed and skilled staff who, despite facing many pressures, come to work every day wanting to provide the absolute best for each patient. They care deeply about what they do and this is reflected in the 'good' rating we received for having 'caring' services [for the trust overall]."
"Significant work is taking place across our hospital and in the community to address the continuing challenges in our A&E department. This includes better management of patients coming in overnight and at weekends, and improving the flow of patients through the hospital with timely, safe discharge so that beds are available for seriously ill patients needing to be admitted."
Jon Rouse, chief officer of Greater Manchester Health and Social Care Partnership, said: "It is clear that some elements of medical and nursing care fell short of the high standards that should rightly be expected by patients at Stepping Hill Hospital.
"We accept the findings from the CQC and have been working with Stockport's leadership team to address these issues; and put in place an action plan to make the necessary and required improvements to care."
"Having the right workforce is vital and the recruitment challenges faced by Stepping Hill reflect the national picture across the whole of the NHS."
Source
CQC report; trust and GMHSCP statements
Source date
3 October 2017