The cost of diabetes is projected to rise sharply to £17bn within 20 years. Robin Hewings and Barbara Young suggest some examples of best practice to reduce the cost per patient and ease pressure on already stretched resources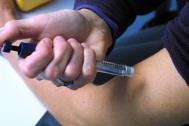 The number of people with diabetes is going up and up, with 3.2 million people diagnosed with the condition in the UK. Last year saw the biggest increase in new cases since 2008. The increase shows no signs of slowing down, with 5 million people projected to have diabetes by 2025.
The growing scale of the condition is fuelling record rates of complications such as heart disease, strokes, amputation and kidney failure. Ultimately, there are more than 20,000 early deaths related to diabetes in the UK every year.
'Acting early to prevent diabetes complications limits the impact on the person's life and saves the NHS money'
This is placing huge financial pressures on the NHS. The NHS spends £10bn annually on diabetes, about 10 per cent of its entire budget.
Demographic changes and high obesity rates mean that even if the cost of treating a patient with diabetes remains the same, the cost of diabetes is set to sharply rise to £17bn within 20 years, with catastrophic consequences for health and social care services.
Meet the challenge
So what can health leaders and commissioners do to meet the challenge of diabetes and cut costs for the NHS? A report by the charity Diabetes UK provides healthcare professionals, clinicians and commissioners with some of the answers by highlighting a series of interventions that improve care for people with diabetes and save money.
Acting early to prevent diabetes complications and treating them as early as possible limits the impact on the person's life and saves the NHS money.
But the opposite is often happening; £7.7bn of the £10bn the NHS spends annually on diabetes goes on diabetes complications. Many of these could be prevented if the person had received good healthcare in the first place.
Improving hospital inpatient care for people with diabetes is essential if diabetes costs are to be reduced. One in every seven hospital beds is occupied by someone with diabetes. People with diabetes have a longer length of stay in hospital on average than people without diabetes by three days.
They regularly experience medical errors and avoidable deterioration in their condition while in hospital, which contributes to excess costs of about £600m.
Hospitals with specialist teams that reduce length of stay and complications have saved around three times their cost.
Examples include:
At an annual cost of £51,682 for a diabetes inpatient specialist nurse with a clinical support worker. Norfolk and Norwich University Hospital Foundation Trust made savings in bed days worth £299,250.
A specialist nurse team set up in Derriford Hospital in Plymouth is estimated to have saved between 1.7 and three times its costs in reduced length of stay for emergency admissions. A second team focused on elective admission management is estimated to have saved between 2.5 and three times its cost.
A team at New Cross Hospital in Wolverhampton is, on the basis of a short study, estimated to have saved six times its cost.
Inside and outside of hospital, people with diabetes are at risk of developing serious problems with their feet that lead to amputation if not managed properly. As well as being devastating for patients, these are very expensive.
In 2010 to 2011, the NHS spent more than £600m on foot care for people with diabetes. Trusts that have introduced multidisciplinary foot care teams have reduced amputations by more than half and can save over four times their cost.
Examples include:
Southampton University Hospitals, which spent £179,860. This was accompanied by falls in the length of stay and major amputations and saved £888,979.
James Cook Hospital in Middlesbrough, which spent £33,078 and saw a reduction in the number of amputations worth £249,459.
Educating diabetics
At the moment, just one in 10 people who are newly diagnosed are offered structured education. Dafne is an education course that trains people with type 1 diabetes to estimate the carbohydrate in each meal and to inject the right dose of insulin.
A seven year follow-up on UK patients who went on the course showed their control of their blood glucose remained tighter than a similar group who had not been on the course, making them less likely to suffer the serious and expensive diabetes complications. Over 10 years, Dafne is estimated to save £2,200 per patient.
Similar programmes for people with type 2 diabetes such as DESMOND and X-Pert have been shown to be cost effective.
As well as being knowledgeable about their condition, people with diabetes need care shaped around their needs. With collaborative care planning, patients and doctors discuss their goals for the year ahead and the support they need to reach their goals.
The Year of Care Partnership piloted this approach using diabetes as an exemplar. By redesigning how routine care is provided there is a more personalised approach with fewer, but longer and more collaborative, GP consultations. The care planning involved in the pilot was cost neutral but there was a major improvement in clinical outcomes. The number of people in the Tower Hamlets pilot site with good control of blood glucose, blood pressure and cholesterol increased from 24 per cent to 35 per cent.
Comprehensive approach
Good quality diabetes care is about coordinating a range of services and taking a comprehensive approach. An integrated model that combines care across the NHS with shared information and budgets and a multidisciplinary network best delivers this. Studies from Germany, Switzerland, the UK and the US show that interventions work best when a number are put together, such as structured education, pharmaceutical therapy and checks and screening for damage to kidneys and eyes.
'Moving general diabetes care into primary care without proper planning can work badly for people with diabetes'
Greenwich Primary Care Trust had some of the poorest outcomes for diabetes before piloting more systematic implementation of National Institute for Health and Care Excellence primary care guidelines. With a more integrated and structured system the pilot GP practices saved more than £200,000 in their first year due to fewer cardiovascular admissions.
On a longer timescale, the dramatic rise in type 2 diabetes could also be slowed and money saved if the NHS Health Check was delivered more effectively.
It can be done
The evidence for the effectiveness of intensive lifestyle behaviour change for people who do not have type 2 diabetes but whose blood glucose is above normal levels is very strong. High quality studies from around the world show that intensive lifestyle modification either saves money or is highly cost effective.
Overall, the NHS Health Check could produce a gross saving of £123m a year over 10 years, due to averted strokes, type 2 diabetes prevented and detected early, and early detection of chronic kidney disease.
A Diabetes UK report, Access to test strips – A postcode lottery?, published in August, also sets out examples of actions which reduce the quality and effectiveness of care in the interests of short term cost saving and in the medium to longer term increase costs. Arbitrary limits on the strips people use to test their blood glucose levels make it harder for people to control their diabetes.
Moving general diabetes care into primary care without proper planning or ready access to specialists can also work badly for people with diabetes.
There can't be many areas of the NHS where there is actually enough funding – £10bn – if it were spent more wisely. Several of the measures outlined above create realisable savings in a year or two and these accrue in the same part of the health care economy.
Robin Hewings is head of policy and Barbara Young is chief executive at Diabetes UK