Two clinical commissioning groups in south of England have joined their leadership and plan to merge if they are permitted to, they have told HSJ.
Aylesbury Vale CCG, whose chair is NHS Clinical Commissioners co-chair Graham Jackson, is joining with Chiltern CCG. Together they cover Buckinghamshire, with a combined population of 540,000.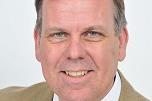 The two governing bodies will meet together and share a chief officer, who is expected to be Louise Patten, currently Aylesbury Vale's chief officer. The CCGs will retain separate clinical chairs and lay vice chairs.
Dr Jackson told HSJ the groups would seek to merge quickly if they were allowed by NHS England. Since Simon Stevens became chief executive of the organisation in April 2014 he has rejected CCG mergers.
However, HSJ understands NHS England is planning to allow some mergers, and potentially in some cases to encourage or direct it. Mr Stevens, answering questions at the NHS Confederation conference last week, indicated he was now open to it.
He said: "We would be in a position to move to full merger with no trouble, and it makes sense to."
Dr Jackson said he thought NHS England should take a more "permissive" approach to CCGs including permitting them to merge.
He said the two Buckinghamshire CCGs would complete the changes their governance and leadership so far within the first quarter of 2016-17, to avoid further distraction.
He said: "Where it makes absolute sense [for groups] to come together for commissioning purposes and benefits for the population, it is appropriate. But also it's really important to do that process expediently, to not detract from the main job of commissioning.
"We set ourselves a target of completing this in one financial quarter and we're in line to finish that and start the [CCG] federation on 1 July."
Dr Jackson said the main trigger of the CCGs' decision to join was prompted by the very limited planned funding growth for the two CCGs over the next three years.
He said: "Pooling commissioning budgets will give us better resilience… Commissioning across a bigger patch [also] gives us more opportunity to find savings."
Dr Jackson added that reducing management costs was not a factor in the decision.
Southern CCGs join leadership and target merger
1

Currently reading

Southern CCGs join leadership and target merger

2

3